ALCATEL MY FLIP 2 (A406DL)
ALCATEL MY FLIP 2 (A406DL)
is rated out of
5
by
234
.
Choose from below
SPEED 4G LTE/Wi-Fi® Connectivity
USAGE TIME Up to 6.8 hrs (4G); 8 hrs (3G); 6 hrs (2G)
DISPLAY INTERNAL DISPLAY 2.8'' | EXTERNAL DISPLAY 1.44''
STORAGE 512MB RAM / 4GB ROM
CAMERA Rear Camera 2MP, 480p @ 30fps capture
DIMENSIONS 4.13'' x 2.09'' x 0.76'' inches
EASY. ACCESSIBLE. CONNECTED.
The Alcatel MY FLIP 2 is a modern flip phone with the essential features of a smartphone and none of the hassle. The 2.8'' display includes an easy-to-use intuitive interface and the large keypad is designed for quick dialing and navigation. Check your email, calendar appointments, and surf the web all with fast 4G LTE speeds. Experience Google Assistant and get things done using just your voice.

In the next step, you will have the option to bundle your Phone with one of our no-contract plans.
A Service Plan Required for Activation. Plans are not returnable or refundable.
---
Rated

3

out of

5
by
Imogene H
from
COMPLICATED
I am elderly and all I wanted was a simple phone for emergencies. This phone is loaded with bells and whistles that I don't use and didn't want! It's way too complicated for an elderly person. The print in the instruction booklet is so small that it's nearly impossible to read. I had to call for help setting it up and the woman I talked to had no patience at all! No place in the instruction booklet does it tell how to set up a voicemail message, so I had to call someone else another day to find out how to do that. It has been very frustrating, and I don't know why they can't just make a simple emergency phone for the elderly!
Date published: 2020-11-04
Rated

1

out of

5
by
Anonymous
from
hopelessly complicated
I have had this phone about a year. It is the most annoying piece of equipment I have ever owned. I will quit Tracfone when my plan runs out to be rid of this device. Contrary to providing a simple flip phone they have packed all the features of a full sized phone in the package. Try to figure out the arcane sequences of things to push to even figure out how to store a contact! Why could not Tracfone realize that anyone wanting a flip phone would want a SIMPLE flip phone. If you need a simple to use phone avoid this one for you will be worse than disappointed
Date published: 2020-10-28
Rated

5

out of

5
by
Al in Wa
from
A good replacement for the obsolete flip
Like others here, I got this to replace my old CDMA phone that would be unsupported after Jan 1. It does that very well. It has many features that I will never use, but they can be ignored and do not get in the way. It is easy to navigate for anyone with normal computer skills. I specifically did not want a smart phone, so this does what is needed very well. At $20, it's the best option that I could see. The only down side is, to check minutes, one needs to use the data connection to go to the tracfone portal, rather than being shown on the display at all times, which is a minor detail.
Date published: 2020-12-18
Rated

3

out of

5
by
mlkeuroglian
from
So so review
Purchased this phone only because my old flip phone was going to be extinct January 2021. Overall it's okay, but it is hard to teach to my 81 year old husband as it's not as straight forward as the old phone, i.e., to turn off you must scroll down to turn off, not just hold one button to accomplish this one simple task. My other critique is that it takes forever to turn on and be able to make a call. If I needed this phone in an emergency when time was of the essence, it would be game over.
Date published: 2020-11-29
Rated

1

out of

5
by
Phone2lee
from
Nice update to flip phone, but not user-friendly.
I bought this phone for my elderly grandma. She just needs a basic call plan only and this is the reason we went with TracphonePhone. The phone is nice and bright and good quality. Seems easy to use, but not user friendly at all. I am buying a different phone to use next round. 1) speed dial: Instead of dialing the number and hitting call, you have to keep your finger on the number for a long time for speed-dial to work. Issue here is that the number keys are sensitive, and it keeps dialing the number twice or more if you keep your finger on it instead of actually calling the person on speed dial. 2)scrolling contacts to call: The up and down keys to select the contacts is only the small rim around the center buttong "OK". It is hard to select your contacts with your fingers. You have to use your fingernails to select the contacts. This is super frustrating.
Date published: 2020-11-02
Rated

1

out of

5
by
Opposite of gruntled
from
Cheap
It's annoying. Checking minutes is a pain. Setup is aggravating. Way more complicated than it needs to be. It has facebook and other junk I couldn't care less about. I just wanted a very basic phone for emergencies. This ain't it.
Date published: 2020-11-13
Rated

2

out of

5
by
Anonymous
from
Why I returned it
I returned this phone for a refund since it was way too complicated to use. Just wanted a simple phone to answer and make calls. Tried to set it up, but finally gave up. Got my refund not too long after I mailed it back to the warehouse.
Date published: 2020-11-03
Rated

1

out of

5
by
Anonymous
from
Not What I asked for!!
I have had this phone for less than 2weeks and I am not pleased with its function, because I find it more complicated to operate than the oldest smart phone.
Date published: 2020-11-04
Specifications
SIZE 4.13'' x 2.09'' x 0.76'' inches
STANDBY TIME Up to 13.75 days
WEIGHT 4.27 oz
BAND (FREQUENCY) LTE Bands - 2/4/5/12/13/66/71
INCLUDED BATTERY Included Battery 1350 mAh Lithium-ion
HEARING AID M4/T4
TALK TIME Up to 6.8 hrs (4G); 8 hrs (3G); 6 hrs (2G)
What's in the Box?
Includes Quick start guide
Wired AC charger
battery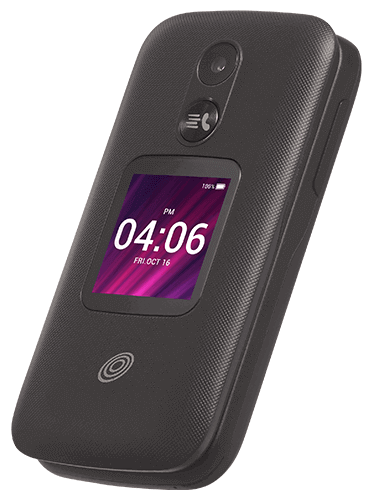 A Service Plan Required for Activation. Plans are not returnable or refundable.
WARNING: Cancer and Reproductive Harm - www.P65Warnings.ca.gov
TracFone Nationwide Prepaid Wireless:
No activation fees, contracts, monthly bills or credit checks.
Unlimited Carryover® of unused talk, text and data that never expires*
*service must be active and in use within each six month period
More features
EASY AND INTUITIVE:
The 2.8'' internal display provides an easy viewing space for reading emails, messages, or phone numbers and it's easy to see who's calling without opening the phone thanks to the 1.44'' external preview display.
GOOGLE IS HERE TO ASSIST YOU:
As part of the KaiOS experience, the MY FLIP 2 comes preloaded with Google Assistant, which helps you get things done and find answers on the go, using just your voice.
ACCESSIBILITY FOR ALL:
The MY FLIP 2 comes with a host of accessibility features like Real-Time-Text (RTT) and hearing aid compatibility that enable any user to easily stay connected. Plus, a dedicated external SOS button1 allows the user to call for help in case of an emergency.
POWER, SPEED, AND ENDURANCE:
Be productive at work and home thanks to KaiOS, a quad-core processor, 4G LTE speeds, and an expandable memory slot. Looking for a charger won't be part of your daily worries thanks to the long-lasting battery.
SIMPLY CONNECTED:
Enjoy crystal clear VoLTE call quality and browse the web, check email, and manage your calendar on the go with fast 4G LTE speeds.
We are sorry but this device is not available currently!
Please add your email and we will notify you when this device can be purchased: SUBMIT
*TETHERING TO ANOTHER DEVICE IS PROHIBITED. OTHER LIMITATIONS APPLY. Please refer to your terms and conditions.