$30 OFF! Plan Purchase Required.
LG PREMIER PRO LTE (L414DL) - RECONDITIONED
LG PREMIER PRO LTE (L414DL) - RECONDITIONED
is rated out of
5
by
91
.
Choose from below
SPEED 4G LTE/Wi-Fi®
USAGE TIME Talk time up to 14 Hrs
DISPLAY 5.3'' HD Display
STORAGE Internal Memory up to 16 GB
CAMERA 8 MP Rear Camera/Video Recorder
DIMENSIONS 5.85'' (H) x 2.96'' (W) x 0.34'' (D) inches
RECONDITIONED. To the value-seekers and great-deal getters. You're on the market for a smartphone that accomplishes the essentials - nothing too 'extra' yet one that looks and feels great. But you also love to make and share memories, so you need a camera that's sharp and quick, because life moves fast. LG's got you covered: meet the LG Premier™ Pro LTE.

In the next step, you will have the option to bundle your Phone with one of our no-contract plans.
A Service Plan Required for Activation. Plans are not returnable or refundable.
---
Rated

5

out of

5
by
Anonymous
from
Tracfone is a smart buy for a smart phone!
i purchased my LG Premier Pro LTE from Tracfone about a month ago and absolutely love it. It was easy to activate and operate. I had never had a smart phone before this purchase and now wonder why I waited so long to get one. I love the unlimited talk and text plan that I signed up for and am able to text my daughter and grandchildren often and never worry about running out of texts. I've had a Tracfone flip phone for a long time and also enjoyed that. I am in my late 70s now and with this new smart phone I feel so modern! Thank you Tracfone for always being there to answer questions and provide the good service I have experienced.
Date published: 2020-09-25
Rated

4

out of

5
by
Earth Guardian
from
Reconditioned LG Premier Pro LTE (L414DL)
This reconditioned phone ($28!) is great. Lots of features, very good camera pix, works great. Getting it set up and moving an existing number to it required several days and many hours on chat to get it activated & set up (which is why I did not give it 5 stars). Still working on how to change voice mail message, etc. The reception is superb and the online help does a good job of staying the course to get everything done. We now have 3 tracfone cells at less than the monthly cost of one horrible AT&T phone service. So glad to have come back to tracfone--they are well worth it. And their reconditioned phones are a really good deal. Highly recommend.
Date published: 2020-11-05
Rated

4

out of

5
by
Doc77
from
Pleasantly surprised
I ordered the LG L414 Reconditioned cell phone, and was disappointed in the volume. After several days, (less than a week) I found time to get on chat at Tracfone, and a lady, took me to some settings I wasn't aware of, and she helped me reset the volume on my phone. Ever since, (about 2 weeks) I have been very happy with my phone. I do like the on/off button being on the back. I don't accidentally turn the phone off. The L414 is easy to use, and program contacts. I talk to my brother in WA, with no problem. My new case fits great, I hope this phone lasts for awhile.
Date published: 2020-07-17
Rated

3

out of

5
by
just john
from
Good price phone that works
I'm sorry but the phone is fine and works just great . I just don't get why anyone needs so much stuff on a phone . It's to much and I'm not a fan of a smart phone at all . Like I said the phone works just fine but all I need is to make a call get a call maybe a text pulling up the weather is nice but everything else is just over kill that's why I give 3 stars for me it's just to much useless unwanted not needed crap and its not for me . But also if YOUR into that kind of thing you can get a good deal with tracfone they do have good prices and deals . I have been with tracfone about 20 years and no need to go anywhere else
Date published: 2020-09-09
Rated

4

out of

5
by
Anonymous
from
A Keeper
So far I like the phone, it was a upgrade to the LG i previously had (it committed death by wash machine). It seems to have a good amount of run time and runs a little quicker. Really like the power button on the back side of the phone, as my previous LG had it on the side and it was always getting pushed by accident. I do not do much internet searches on my phone and social media is not for me, so if you want a good, clear, easy to use, inexpensive phone, I like this one.
Date published: 2020-08-23
Rated

2

out of

5
by
Doc 43
from
LG L414 Reconditioned
I just got this phone yesterday 6/26/20. I admit it was a reconditioned phone. Tracfone says all reconditioned phones have been serviced and tested. HA! Has screen protector from previous owner. Not sure why they returned it, but I am upset because the volume on incoming or out going conversations cannot be heard. The phone conversations cant be heard by person on other phone either. I give it a 0.......
Date published: 2020-06-28
Rated

5

out of

5
by
Anonymous
from
USE TRACFONE
I love my LG 414DL..I was using a ZTE for a long time..Boy,was I missing out..This LG is fast and so much more positive ..Thank you Tracfone...and all for only $15.00..What a deal..Tracfone is the best..I have been a user for 10 years.....
Date published: 2020-08-29
Rated

2

out of

5
by
Tom123456789
from
Good price, however you get what you pay for
Had to buy because Tracfone will no longer support my older LG phone's network system. Based on my good experience with my older LG, I choose this phone(which is VERY similar to my old one). The sales rep. Assured me several times that I could easily transfer my data, apps, settings, etc by using either Google IDrive or their "Wizard"...sadly...neither worked and after hours and hours trying, including repeating calls to tech support...I gave up and manually re-entered what I could. Not a pleasant project. The final straw is that the phone's audio output is very poor, low volume and distorted. Nothing like my old LG. The sad part is that until this experience, I was a happy Tracfone user...now not so much. Finally, Tracfone needs to improve the quality of their telephone support communication system. The support personal are ok, pleasant, basically knowledgeable, however the calls are plagued with echo, distortion, the "talking underwater" sound...making their support almost useless.
Date published: 2020-08-19
Specifications
SIZE 5.85'' (H) x 2.96'' (W) x 0.34'' (D) inches
STANDBY TIME Standby time up to 16 days
WEIGHT 5.93 ounces
BAND (FREQUENCY) Technology: CDMA/LTE
INCLUDED BATTERY Battery capacity 2,880 mAh
HEARING AID M3/T3
TALK TIME Talk time up to 14 Hrs
What's in the Box?
Includes Charger
Battery
Activation Card
Services Guide and Quick Start Guide.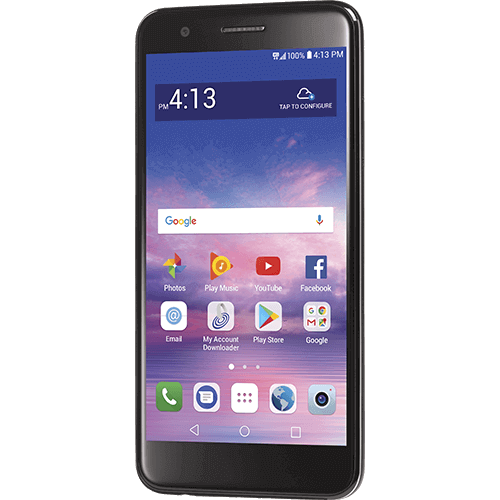 A Service Plan Required for Activation. Plans are not returnable or refundable.
WARNING: Cancer and Reproductive Harm - www.P65Warnings.ca.gov
TracFone Nationwide Prepaid Wireless:
No activation fees, contracts, monthly bills or credit checks.
Unlimited Carryover® of unused talk, text and data that never expires*
*service must be active and in use within each six month period
More features
RAM:
Expandable Storage/microSD Slot
CAMERA:
8 MP Rear Camera with Auto Focus - Capture moments exactly as they happen with instant focus and zero shutter lag - then share with everyone.
BATTERY:
2,880 mAh Non-Removable - Don't let anything keep you from accomplishing your day. This phone has power that lasts.
DISPLAY:
5.3'' HD Display - See clearly on the large screen that presents your life in bright color and eye-opening detail.
We are sorry but this device is not available currently!
Please add your email and we will notify you when this device can be purchased: SUBMIT
*TETHERING TO ANOTHER DEVICE IS PROHIBITED. OTHER LIMITATIONS APPLY. Please refer to your terms and conditions.