Moto G7 Optimo (XT1952DL)
Moto G7 Optimo (XT1952DL)
is rated out of
5
by
15
.
Choose from below
SPEED 4G LTE/Wi-Fi®
USAGE TIME Up to 40 hours
DISPLAY 5.7'' HD+, 294 ppi, aspect ratio 19:9 (1512 x 720)
STORAGE 2GB RAM + 32GB ROM
CAMERA Rear camera 13MP, f2.0, PDAF, 1.12um pixels, LED flash. Front camera 8MP, f2.2, 1.12um pixels, LED selfie flash
DIMENSIONS 148.71 x 71.5 x 8.09 mm
Compact design. Huge performance.
We're constantly adding new features to our collection of Moto Experiences to make your experience easier and more enjoyable. Take Moto Display, which gives you a quick preview of notifications and updates, so you don't have to unlock your phone to see what's going on. Or Moto Actions, which lets you use simple gestures to make everyday interactions more convenient. Don't jump through hoops to stay in the loop. The screen knows when you're looking at something, so it won't turn off while you're reading. Whether it's a twist of your wrist to open the camera, chopping down twice to turn on the flashlight, or navigating using the newly redesigned One Button Nav, you can use your favorite features in a way that's natural and intuitive. That's just a glimpse of what your phone can do.

In the next step, you will have the option to bundle your Phone with one of our no-contract plans.
A Service Plan is Required for Activation. Plans are not returnable or refundable. Transfer Wizard app available to move stuff from your old phone to your new phone. Text TFMTXT1952DC to 611611 for mobile tutorials.
---
Rated

5

out of

5
by
Gerald F
from
Great upgrade over previous Samsung Galaxy core prime. Only used it approximately 3 weeks but love it. Lasts longer between charges than advertised. My only concern is it dose not have a replacement battery, but most new phones don''t. Just hope it lasts. It is the best phone I ever used jerr
Date published: 2020-04-02
Rated

5

out of

5
by
RockyII
from
First Impression
Seems like a good choice to replace my 6 year old tracfone. OS interface is very similar to my Pixel 2 XL, which is my "PDA", but not my phone. I pay $7/mo for my Tracfone. I refuse to pay the price for a full service smartphone. Activation was easy : log into your tracfone portal > click Activate > I Have a tracfone > continue > enter the S/N > Accept conditions > Continue...etc. My new phone was working in less than 30 minutes. I'll update later if I'm not pleased.
Date published: 2020-05-05
Rated

5

out of

5
by
Kevin Dullon
from
Best Ever
This is the best pre-paid cell phone ever. Menus work. Key strokes don't miss. Will connect to 5g wifi. I love you, G7 Optimo.
Date published: 2020-05-02
Rated

1

out of

5
by
dle126
from
Volume Issues
Unable to hear conversations/voicemails/ring tones. Tech Support was unable to correct. Returned the phone after 3 days. Nice camera....but, that's not what I needed.
Date published: 2020-05-04
Rated

2

out of

5
by
Kim A
from
CDMA only phone
After I activated the phone, I noticed that I had no data connection or service. I called Tracfone and come to find out this phone is CDMA only. I can only use GSM where I live (complete dead zone for CDMA network at my house), so this phone is useless to me. I'm returning it. There is nothing in the description stating that it's CDMA only, so buyer beware if you live in an area like me that can only use GSM network.
Date published: 2020-05-31
Rated

5

out of

5
by
Anonymous
from
good phone
great phone , tracfone is the best value and super service . love my moto and love my tracfone.
Date published: 2020-05-20
Rated

2

out of

5
by
Freekazzi
from
If you only like Google
Overall its a great phone. The only issue is...and its a big issue for me. Its all about Google. You can not add any other browser. You have to be logged in a Google account for any internet. Its sad the the phone is awesome.I have it with the 365 days 1500/1500/1.5g plan. But that plan data is seems to be throttled for sure.
Date published: 2020-05-06
Rated

3

out of

5
by
Stvvv
from
Don't Drop It!
I want to start off by saying I'm a real fan of Tracfone; their plans fit well my wife's and mine needs. I immediately put my wife's iPhone 6s Plus on a plan over 4 years ago and I went to a Tracfone Galaxy J7 Crown & plan soon after retiring 2018. I would have preferred something other than a Galaxy, but was best deal at that moment offered by Tracfone; too much bloatware though has served me pretty well. My wife's iPhone began giving many issues regarding charging and finally quit; I even replaced a battery. We accumulated a number of chargers & cords past year & half. My wife's main use for her smartphone is an app called WeChat. After her phone quit recharging, she simply began using a laptop for this app; under our circumstances no real rush for a phone. Knowing she would eventually need a phone I ordered the Moto G7 Optimo April 28 and received it a few days shortly afterwards. At same time I ordered a case, glass protectors & 128 GB SanDisk from Amazon; projected delivery date May 14th. I did all this without her knowledge because I knew she would want it immediately and as hard as she was on her iPhone, having replaced several glass protectors, I wanted it all set up when presenting it to her. Well, the case & glass protector didn't show till May 15th & ScanDisk isn't expected to show up now till the 21st. In the meantime, a week after having received her phone and in the process of setting up the phone & apps, she accidentally caught me with her phone. It was all I could do to hold her off till the accessories arrived! When the case & glass protectors arrived, I agreed to let her have the phone after installing WeChat. In the process of preparing to place on the glass protector, I removed the contents from the plastic package, laid the contents on right side of my computer, plastic package on my left as well as placing phone on top of the plastic package; big mistake! The package & phone laid upon a notebook that was declining toward the edge of my desk and this phone being so slippery fell onto the floor. I have a fully furnished basement where my office is, however the floor is concrete. Truthfully, I didn't panic that much because I read that the glass was gorilla glass and figured it would have survived that fall. WRONG! Unbelievable, I retrieved it to discover a horizontal hairline crack clear across the phone. Lol… I broke the screen in process of putting on protective glass. Okay, I'll take blame for the broken glass, however it's hard to believe that with today's phones glass doesn't hold up better than this. My wife was very understanding and was simply glad to have a phone back; she's used to operating with a cracked screen. I owned two Motorola phones before and really liked them and very pleased with the operation of this one, as is my wife. I will give the phone 5 stars, but take 2 off for how easily a glass can break. Yes, I would recommend this phone, but JUST DON'T DROP IT before getting a protective shield on it. Lol… don't do what I did.
Date published: 2020-05-17
Specifications
SIZE 148.71 x 71.5 x 8.09 mm
STANDBY TIME Up to 40 hours
WEIGHT 168 g
BAND (FREQUENCY) 4G LTE Network
INCLUDED BATTERY Built-in Battery Lithium-ion 3000 mAh
HEARING AID M4/T3
TALK TIME Up to 40 hours
What's in the Box?
Includes Charger
Battery
Activation Card
Services Guide and Quick Start Guide.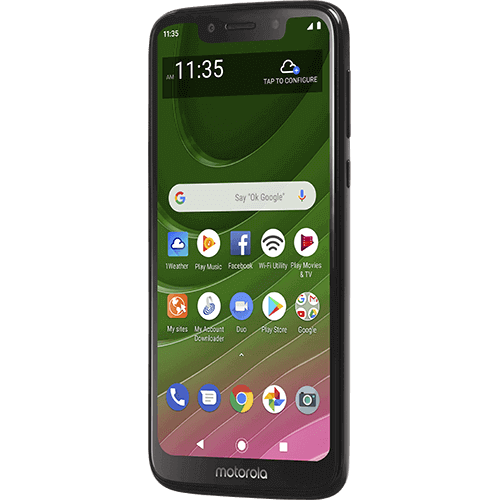 A Service Plan is Required for Activation. Plans are not returnable or refundable. Transfer Wizard app available to move stuff from your old phone to your new phone. Text TFMTXT1952DC to 611611 for mobile tutorials.
WARNING: Cancer and Reproductive Harm - www.P65Warnings.ca.gov
Tracfone Nationwide Prepaid Wireless:
No activation fees, contracts, monthly bills or credit checks.
Unlimited Carryover® of unused talk, text and data will not expire***
More features
RAM:
2GB RAM + 32GB ROM - Supports up to 512GB microSD card
CAMERA:
Take a picture, and the camera automatically captures multiple shots, intelligently recognizing issues like blurred images or closed eyes. Then it recommends the best shot to keep, so you get the best results. Shoot a timelapse video while in motion and smooth out all unwanted jerks, shakes and bounces thanks to post-capture stabilization. Capture slow-motion video to focus on details your eyes miss at normal speed.
BATTERY:
10W rapid charging.
DISPLAY:
Enjoy ultrawide views on the stunning 5.7'' Max Vision HD+ display, which gives you the big screen you,ve been craving. Unlike traditional displays, Max Vision provides maximum viewing with a 19:9 aspect ratio, fully immersing you in movies, games, photos and everything else.
We are sorry but this device is not available currently!
Please add your email and we will notify you when this device can be purchased: SUBMIT
*TETHERING TO ANOTHER DEVICE IS PROHIBITED. OTHER LIMITATIONS APPLY. Please refer to your terms and conditions.