LG Stylo™ 4 LTE (LML713DL)
LG Stylo™ 4 LTE (LML713DL)
is rated out of
5
by
75
.
Choose from below
SPEED 4G LTE/Wi-Fi®
USAGE TIME Talk time up to 13 Hrs
DISPLAY 6.2'' FHD FullVisionTFT Display
STORAGE 16GB ROM - 2GB RAM
CAMERA 13MP Rear camera PDAF/5AM front camera Wide-Angle
DIMENSIONS 6.30'' (H) x 3.06'' (W) x 0.33'' (D) inches
The LG Stylo™ 4 is a device that fits your lifestyle, not matter how big your life is. Create more. Play more. Live more. With the Stylo™ 4, nearly anything is possible. It's more than a phone; it's your best life in the palm of your hand.

In the next step, you will have the option to bundle your Phone with one of our no-contract plans.
A Service Plan Required for Activation. Plans are not returnable or refundable.
---
Rated

4

out of

5
by
George Z
from
I love my phone EXCEPT for its very limited 16GB internal memory. Sure you can add an SD card but you are very limited to the number of app's that can be added because of the sparse very limited 16GB. I am also spoiled with the stylus. I have large hands and using thumbs to type has always been a problem. The stylus is a God-sent for guys like me. But for a low cost smart phone, hard to beat this phone.
Date published: 2020-02-25
Rated

1

out of

5
by
winter40
from
Don't Buy This!!!!!
Bought this a few months ago, worst LG phone ever. Won't hold a charge more than a few hours. Camera is very bad, memory inadequate. Stylus feature nice. Won't stay charged for more than 8 hours. I have had 6 LG phones that I'd rate 4 or 5, was expecting this one to be of equal quality. LG really dropped the ball on this. Will keep this 'til 5G is available, then switching to new 5G phone (and NOT an LG).
Date published: 2020-08-03
Rated

3

out of

5
by
Ashlee
from
Lacks the DTS 3d audio
They stripped out the DTS 3D audio on the tracfone stylo 4 model. You buy this same phone from the store and it has the DTS 3D audio. Which normally wouldn't be a big deal but whatever cheap basic audio chip and speaker is in the tracfone variant sounds pretty bad by comparison . I have 6-7 yr old cellphones with better audio quality.
Date published: 2020-04-10
Rated

3

out of

5
by
Jim Taliadoros
from
Good phone
bought two days ago puled lit out of my side pouch using two fingers the display glass cracked and Tracfone did not replaced it even having two more phones for a number of years with them. So protect the front display glass it is very fragile or use a cover for it.
Date published: 2019-12-14
Rated

1

out of

5
by
Anonymous
from
Not as good as Stylo 3!
I am not happy with this after owning the Stylo 3. This upgrade is a bust. All of the options offered on this phone are just not as nice as my old phone. The data did not switch as they said it would and I have spent hours trying to get it like my old model, to no avail. People can't hear me, it only rings when it feels like it, and the text messaging is awful. They give you this tiny little frame to write in while you can read previously sent messages fine. I want to see what I am writing!!! The stylo pen is hard to get and it is located at bottom. Bad place if it isn't in correctly as it falls out. Should have just replaced the cracked glass on my Stylo 3. In fact, I seriously considering switching my number back to the old model and getting new glass. Maybe if I never owned the 3 model, I might like the 4 model.But I really I hate this 4 model. In fact, I still use the 3 with Wi-Fi to play game apps. One thing is better and that is the camera. However, I very rarely take pictures. If you loved the Stylo 3, you might not like the Stylo 4. Good Luck!
Date published: 2020-01-17
Rated

5

out of

5
by
Bryn
from
Easy to find, quick service, in and out in no time
New phone very easy to learn and to use. And for an older person to say that is a good thing. Like any thing new, I am still learning all that this phone can do for me. I made the best choice with the name company I went with. For some one hard of hearing this volume I can set to where I can hear every thing very clear. Also the touch pad is bigger than many other phones. I`d buy another if some thing happened to this one. Thank You.
Date published: 2020-10-04
Rated

3

out of

5
by
Gift giver
from
Too large
I had to purchase/update a new phone because Tracfone was changing net work stuff, so current phone would no longer work, so they said. LG Stylo 4 is much longer/larger than the current LG I had. I keep dropping it, weight is distributed differently and it slides out of my hand. Side buttons are more sensitive so if I squeese to hold on to the phone, something changes. Features are about the same, just have to locate everything. I don't care for the available ring tones, all to funky/spacey. The phone will provide the service I need, however I live in a very rural area so connections are an issue. A phone was origanally purchased for safety and very little business, we do travel into more populated areas.
Date published: 2021-01-01
Rated

4

out of

5
by
donrb
from
for an old timer like myself it's out of this worl
the LG 4 LTE seems to do more than enough for what i use it for but i'm old school and not that great with the new electronics
Date published: 2020-11-25
Specifications
SIZE 6.30'' (H) x 3.06'' (W) x 0.33'' (D) inches
STANDBY TIME Standby time up to 11 days
WEIGHT 6.07 oz.
BAND (FREQUENCY) Technology: CDMA/LTE
INCLUDED BATTERY Lithium Ion 3,300 mAh
HEARING AID M4/T3
TALK TIME Talk time up to 13 Hrs
What's in the Box?
Includes Charger
Battery
Activation Card
Services Guide and Quick Start Guide.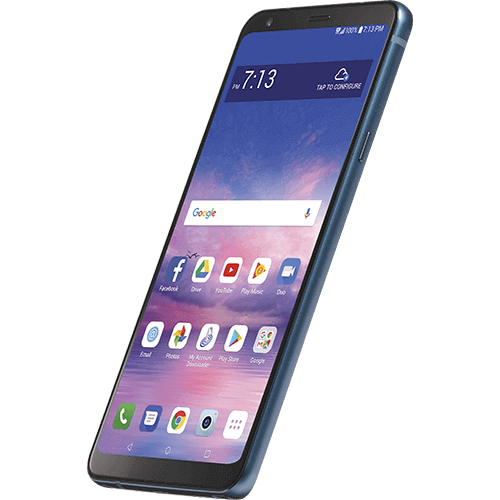 A Service Plan Required for Activation. Plans are not returnable or refundable.
WARNING: Cancer and Reproductive Harm - www.P65Warnings.ca.gov
Tracfone Nationwide Prepaid Wireless:
No activation fees, contracts, monthly bills or credit checks.
Unlimited Carryover® of unused talk, text and data will not expire***
More features
CAMERA:
13MP Rear camera PDAF/5AM front camera Wide-Angle.
BATTERY:
Lithium Ion 3,300 mAh Non-Removable.
DISPLAY:
6.2'' FHD FullVisionTFT Display.
We are sorry but this device is not available currently!
Please add your email and we will notify you when this device can be purchased: SUBMIT
*TETHERING TO ANOTHER DEVICE IS PROHIBITED. OTHER LIMITATIONS APPLY. Please refer to your terms and conditions.