Motorola Moto G7 Optimo Maxx (XT1955DL)
Motorola Moto G7 Optimo Maxx (XT1955DL)
is rated out of
5
by
173
.
Choose from below
SPEED 4G LTE/Wi-Fi®
USAGE TIME Up to 3 days
DISPLAY 6.2'' HD+, 270 ppi, aspect ratio 19:9 (1570 x 720)
STORAGE 3GB RAM + 32GB ROM
CAMERA Rear camera 12 MP with PDAF, EIS, LED flash 8 MP front camera
DIMENSIONS 160.83 x 76 x 9.4 mm
Designed to impress. Built to create.
Secure your device with face unlock. The phone will recognize your stored face and unlock the device. Never mind remembering your passcode. Just touch the fingerprint reader to wake up and unlock your phone instantly. Switch between apps by using gestures instead of buttons. Swipe up, swipe right, swipe left. Respond in a tap with suggested smart replies. Turn off frequently dismissed notifications. Slow motion video, Timelapse video, Hyperlapse video, Snap in video recording, Youtube Live Stream.

In the next step, you will have the option to bundle your Phone with one of our no-contract plans.
A Service Plan is Required for Activation. Plans are not returnable or refundable. Text MTXT1955DL to 611611 for mobile tutorials.
---
Rated

5

out of

5
by
EricMT
from
Best of all in Tracfone's line up for a decade!
Kudos to Motorola for creating this exceptional phone at a reasonable price. This phone is fast. Can't go wrong with a battery that lasts a long time and charges up really fast. Always wished for more internal storage space than my last phone to download and run favorite Android apps. 32 GB is definitely better and of course I'll always wish it had more. Another plus is some apps, unfortunately not all, can be moved to the microSD storage to free up precious internal storage space. Android Pie is faster in getting around than all of the previous flavors. Just like it's sibling, the G7 Power which has a better screen. At this lower price, I really don't mind. If I sound like one happy camper, I am!
Date published: 2020-07-05
Rated

4

out of

5
by
Cheree
from
Quality phone---hard to set up.
This is my first "SmartPhone", and so far, I do really like it. I think it has good features, good call sound, it's fast, quality screen, and many more bells and whistles than I need, or will use. However, I couldn't give it a 5-star rating simply because I found it very difficult to set up. Finding the user manual, and answers to questions I've had has been difficult at best. However, I have found the "Help" app feature on the phone actually better than most, and has given me info I've needed from that. I do think some of my issues were simply not having a familiarity with smart phones. Overall, I would recommend this phone as a good quality phone for those using the TracFone service.
Date published: 2020-09-17
Rated

4

out of

5
by
stevieP714
from
Good phone...great price!
Purchased this phone about a month ago to replace my Galaxy S5. It's a little bit larger than the S5. It also has a little heft to it due to the use of a 5000mAh battery; which depending upon how you use it, can last for some time. I'm recharging the battery once a week. I could probably go a full 10 days before recharging, but why take the chance on having the battery run out when you may need it the most. It has the latest and greatest Android OS, and it really didn't take long to get accustomed to it. All in all, I'm very pleased with it's performance and for the price, you really can't beat it.
Date published: 2020-10-02
Rated

4

out of

5
by
Jim Indiana
from
Good Phone
Great Battery life (really great) and it self updated to Android 10 right away! Wifi far superior to my old phone but the Moto toolbar is a bit annoying or will take some time to get used to. I liked the phone enough to buy an extra for my spouse. She uses it to txt her family with an Asian character set in a different country and it works well, no need to download and use an adjunct App which we had to do before. Almost forgot - the built in FM Radio works great but you have to use wired earphones as that is part of the FM Antenna! Cameras work great - Duo works well - overall a really good Phone. I would recommend it! Why not 5 stars? To us the phone seems fragile so we are going to buy protective cases.
Date published: 2020-09-15
Rated

4

out of

5
by
patG7
from
About the same as my previous G6 so that's good
I was so glad that Google transferred all my contacts over from my Gmail account as I really worried about that. I'm a little concerned with the amount of storage the G7 uses (49%) compared to the G6 (33%) but it might be because it automatically updated from Android 9 to 10, which I was happy about. And I'm not sure that the data balance is true since it doesn't seem to have decreased much in 2 weeks time & prior to that I had to buy an additional 1g because the balance went so low. Tracfone Cust Svc said not to worry about those concerns but I'm going to be watchful.
Date published: 2020-09-15
Rated

4

out of

5
by
Kevoo
from
a nice phone
I decided to stay away from Samsung because they have problems with the vmx icon not displaying. this Optimo Maxx had good ratings and has lived up to it so far. Its been easy to pick up how to use, the few things I couldn't figure out were fairly easy to find thru google. I do wish there was a way to set the default behavior for plugging into the pc to data transfer - that I haven't figured out yet - may not be possible. I'm a cheepskate so I feel I really got a good deal on this.
Date published: 2020-08-30
Rated

4

out of

5
by
SPL42
from
Good & Nice Device
Of all the Moto Phones that I've owned this is a good phone. The even thou the ear-speaker and music comes from the same speaker. Its ok; in order to hear in loud environment; I have 2 use a plug-in head-set in order to equalize the sound so I can talk to people on the phone but that is ok with me. The other motorola phones the head-sets would NOT work; but this phone works g8 with a wired head-set.
Date published: 2020-06-16
Rated

1

out of

5
by
Anonymous
from
Moto
Purchased 2 Motorola Moto G7 in 10 months. The 1st phone deleted my telephone numbers. The screen kept going blank. Had it 7 months, it stopped working. Paid for a warranty. Forgot about the warranty so I purchased the 2nd Moto phone. Second Moto deleted phone numbers and pictures. Owned less than 2 months when the screen went blank. Again, I paid for a 2 year warranty. TracFone Chat representative gave me the 1 800 867 7183 to trouble shoot my phone and check on the warranty. In 2 months, the 2 year warranty won't replace the phone so I'm out of 2 phones. Other TracFones that I owned lasted 4 years. The two Motorola Moto G7 lasted a total of less than a year. The warranty was completely useless on phones that didn't operate correctly.
Date published: 2020-10-29
Specifications
SIZE 160.83 x 76 x 9.4 mm
STANDBY TIME Up to 3 days
WEIGHT 198 grams
BAND (FREQUENCY) 4G LTE Network
INCLUDED BATTERY Built-in Battery Lithium-ion 5000 mAh
HEARING AID M4/T3
TALK TIME Up to 3 days
What's in the Box?
Includes Charger
Battery
Activation Card
Services Guide and Quick Start Guide.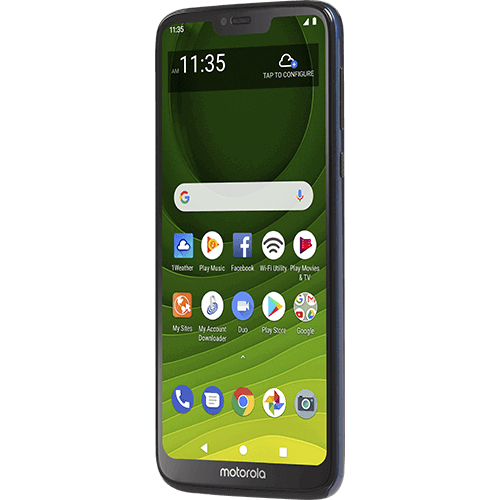 A Service Plan is Required for Activation. Plans are not returnable or refundable. Text MTXT1955DL to 611611 for mobile tutorials.
WARNING: Cancer and Reproductive Harm - www.P65Warnings.ca.gov
TracFone Nationwide Prepaid Wireless:
No activation fees, contracts, monthly bills or credit checks.
Unlimited Carryover® of unused talk, text and data that never expires*
*service must be active and in use within each six month period
More features
RAM:
3GB RAM + 32GB ROM - Supports up to 512GB microSD card
CAMERA:
Do more with your camera by adding creativity and depth to photos with the advanced camera system. Go even further with high-res for stunning clarity that automatically restores the details of images. The 12MP with PDAF lets you focus on a subject in the blink of an eye.
BATTERY:
15W TurboPower™, 9 hours of usage in 15 minutes of charge.
DISPLAY:
Max Vision display. Immerse yourself with ultrawide views on the 6.2'' HD+ display featuring a 19:9 aspect ratio.
We are sorry but this device is not available currently!
Please add your email and we will notify you when this device can be purchased: SUBMIT
*TETHERING TO ANOTHER DEVICE IS PROHIBITED. OTHER LIMITATIONS APPLY. Please refer to your terms and conditions.