Save $70! Get Yours Today!
Samsung Galaxy A20 (S205DL)
Samsung Galaxy A20 (S205DL)
is rated out of
5
by
591
.
Choose from below
SPEED 802.11 a/b/g/n, 2.4 GHz, Bluetooth v5.0
USAGE TIME up to 31 hours
DISPLAY 6.4'' HD+ Super AMOLED Display 720 x 1560
STORAGE 3GB RAM - 32GB ROM
CAMERA Dual 13MP main camera + 5MP Camera / 8MP Front Facing Camera
DIMENSIONS 6.24'' x 2.94'' x 0.31'' inches
Introducing the Samsung Galaxy A20.
Step up to the phone you've been waiting for with the Samsung Galaxy A20. Keep calling, emailing and texting with a long-lasting battery, and power back up quickly with Fast Charging. Keep more, thanks to 32GB of built-in memory. And capture the moment with the dual-lens camera, and then view it all on a vibrant, 6.4'' edge-to-edge Infinity Display. Finally, a phone that fits you and your budget.

In the next step, you will have the option to bundle your Phone with one of our no-contract plans.
A Service Plan card is required for activation. Plans are not returnable or refundable. Service Plan card is required for activation. Text SAS205DL to 611611 for mobile tutorials.
---
Rated

3

out of

5
by
Prefersimple
from
Bloatware & frustrating design
Micro SIM VERY difficult to position in tray. If not EXACTLY lined up, it falls through. Samsung locked in me in loops. Forced me to chose some kind of display screen and would not go to next step. Needed to verify my phone number via text, but my old phone was already dead. Until you know the new phone is working, you're afraid you'll be stuck in Samsung forced choices forever. If I was not on Live Chat for step-by-step assistance, I could not have set up this phone. It's probably the same with all phones, but I hope I never have to set up a phone again. I can see why customers go the the Verizon store and have the tech take care of everything.
Date published: 2020-11-04
Rated

5

out of

5
by
JoMama
from
Overwhelmingly impressed
After one week, I can't say enough positives about this Samsung A20! By far, the best Tracfone I've ever had. Setup and content transfer from my old Samsung was quick and easy....everything transferred in the time it took to make a pot of coffee. Transferring my number & minutes was done online and almost instantaneous. I love the power in the A20. Screen is bright and accessing internet sites is very fast. No complaints about sound quality with youtube or with phone calls. This is my third Samsung and far surpasses the J3 Luna Pro i was using. I unconditionally recommend the A20. Power, speed, 32GB and large screen. Recommend getting a non-slip protective case as the plastic is pretty slippery.
Date published: 2020-09-01
Rated

4

out of

5
by
arealmes
from
good bars
bought to replace the older Samsung that you told me would be having issues with dropped calls and service in 2021. now i have plenty of bars (2 to 4) but NO Service. it worked for maybe a day and then stopped. your Corporate Headquarters told me that you do not Service where i live, i would have to relocate or move to the East or South West. i am between 2 Cell Towers, an AT&T to my West and 3 miles away and an Verizon Tower to me East and 3 or 4 miles away. so i can only use it when i drive towards and past those Towers. i have had TracFone for "Several Years" and it would work and then not then work and then not. Not Happy
Date published: 2020-10-20
Rated

1

out of

5
by
Jack T
from
Know what you're getting into before you buy.
I bought the Galaxy A20 based on its reviews. The kids love it. My issue with it is a factory app called Bixby. There was little to no information on it. We must sign a TOS agreement before we can use it without knowing who they are, what it does or the unknown parties with whom we would be granting them permission to share our data and personal lifestyle information. I did what I could to hide the app but in the end it created all kinds of problems with the phone's operation. It is entirely on me, I know. It may be harmless, but it's doubtful given the extremes they went through to keep us in the dark.. Never the less, Caveat Emptor.
Date published: 2020-12-03
Rated

5

out of

5
by
dsk43560
from
Nice phone. Good speed. Dependable. Affordable.
I read various tech reviews and I was worried the phone would be slow but because of the affordable price I gave it a try. Maybe 45 days have now passed... I am happy to report the phone is actually a very nice phone offering nice speed, very nice color, good sound quality and smooth in operating. Not to mention it interfaces easily with my laptops, tvs and audio system. I loved my J3, which I gave to my grandson, but I actaully love this phone more. The apps and operating system are a huge improvement over my J3. I am not being paid for this review and I dont know any of these companies - I am simply a happy customer sharing my experience. At the price, give the phone a try, you will be happy with the change.
Date published: 2020-10-30
Rated

2

out of

5
by
Anonymous
from
I was very disappointed with the lack of features.
I was very disappointed to find out that what are normal features mentioned in the users manual were not activated in my phone. Specifically the AOD, Always on digital, feature as well as others. I first contacted Samsung and they pointed me back to you. After a rather arduous conversation with customer service I figured out, without their help that due to you being an "economical" provider there were many features that were not available on my phone. in the future I will know to buy my phone unlocked from a different vender and bring it with my to you company.
Date published: 2020-09-19
Rated

4

out of

5
by
Anonymous
from
Overall a good phone for what I need
This is my third Samsung phone through TracFone and I have had it for a little over one week now. I just have to get used to all the bells and whistles on it. I do like it a lot though with the various features including notifications and all! I didn't have any concerns with getting the apps I used set up and running - pretty straight forward. The only drawback I have is that I was not able to transfer over all my contacts from my previous phone to my current one. I called and talked to a TracFone Rep on two different occasions and got two different answers on how to transfer over. Long story short I was told that since I got an upgrade, transferring my contact list wasn't an option and I had to do it manually which sucked! But, so far I like it!!
Date published: 2020-08-24
Rated

5

out of

5
by
LilBunker
from
My Bluetooth hearing aid is loving the A20
A20 is an all inclusive phone. I am learning different things, daily. I am a hearing impaired user, I use more texts than I do phone. I am equipped with a Bluetooth hearing aid. I was able to download the app, that was only allowed on IOS phones, at one time. It has transformed my hearing aid into a more useful device, controlled by my phone. As I mentioned, I am continuously learning different avenues and streets on my NEW A20. I have been an Tracfone user since about 2004 or 05. I went from a flip phone, to a A20. Amazing how technology evolves all the time. I don't like contracts. I do, however, like to choose what I benefit the most.
Date published: 2021-02-26
Specifications
SIZE 6.24'' x 2.94'' x 0.31'' inches
STANDBY TIME Standby time up to 13 days
WEIGHT 169 g or 5.96 oz
BAND (FREQUENCY) CDMA | 4G LTE
INCLUDED BATTERY Non-removable Li-Po 4000 mAh battery
HEARING AID M3/T3
TALK TIME up to 31 hours
What's in the Box?
Includes Galaxy A20 Phone
Charger
Battery
Activation Card
Services Guide and Quick Start Guide.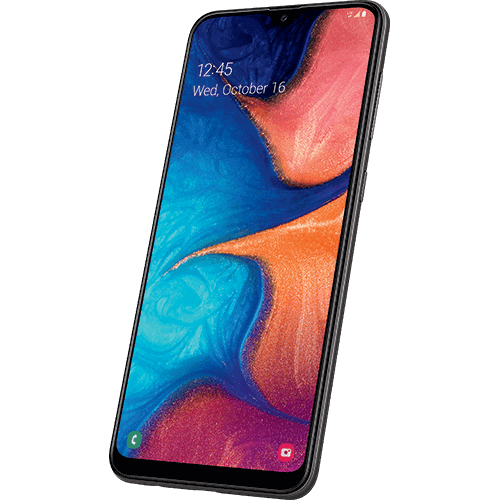 A Service Plan card is required for activation. Plans are not returnable or refundable. Service Plan card is required for activation. Text SAS205DL to 611611 for mobile tutorials.
WARNING: Reproductive Harm - www.P65Warnings.ca.gov
TracFone Nationwide Prepaid Wireless:
No activation fees, contracts, monthly bills or credit checks.
Unlimited Carryover® of unused talk, text and data that never expires*
*service must be active and in use within each six month period
More features
RAM:
3GB RAM - 32GB ROM Supports microSD™ Memory Card up to 512GB (not included)
CAMERA:
A camera for any occasion - Featuring a dual-lens, the Galaxy A20 is the only camera you'll need. Capture more of what you see in every shot, thanks to an ultra wide camera. Shoot scenic photos with a 13MP rear camera or take flattering selfies with an 8MP front camera.
BATTERY:
Long lasting. Fast charging - With an extensive 4,000 mAh long-lasting battery, the Galaxy A20 keeps up with your fast paced life throughout the day and into the night. When you need a boost, power back up quickly with Fast Charging.
DISPLAY:
See more on an expansive screen - Upgrade your view with a brilliant 6.4'' Super AMOLED display. Plus, the large Infinity Display goes edge-to-edge, so you'll never miss anything.
We are sorry but this device is not available currently!
Please add your email and we will notify you when this device can be purchased: SUBMIT
*TETHERING TO ANOTHER DEVICE IS PROHIBITED. OTHER LIMITATIONS APPLY. Please refer to your terms and conditions.