ALCATEL MYFLIP™ (A405DL) - RECONDITIONED
ALCATEL MYFLIP™ (A405DL) - RECONDITIONED
is rated out of
5
by
195
.
Choose from below
SPEED 4G LTE
USAGE TIME Talk time up to 6.5 Hrs
DISPLAY 2.8'' QVGA (320x240) TFT-TN Display
STORAGE Internal Memory 512MB RAM + 4GB ROM
CAMERA 2MP FF camera 60° angle camera
DIMENSIONS 4.13'' x 2.08'' x 0.74'' inches
SMARTPHONE FEATURES WITHOUT THE BULK.
RECONDITIONED. Looking for a compact, easy-to-use phone? The Alcatel MYFLIP™ is for you. This flip phone fits conveniently in any pocket or bag, so it's always ready at a moment's notice. It may be small, but it comes with everything you need to connect with family and friends, including a high-quality camera. This mobile phone even has lightning-fast 4G speeds to make browsing the web effortless. And whenever you're not using it, just flip the phone closed for safekeeping until the next call comes in. Find compatible accessories for your Alcatel MYFLIP™, like portable chargers and car chargers, online at the Tracfone Accessory Shop.
In the next step, you will have the option to bundle your Phone with one of our no-contract plans.
A Service Plan Required for Activation. Plans are not returnable or refundable.
---
Rated

3

out of

5
by
Stuart B
from
What a flip phone should be these days
I figured a flip phone would be the best way to avoid pocket dialing, and found I would have to get a new SIM for the old lg440g. So I got a refurbished Myflip. It seems like battery life is still better than most smartphones, but not as good as old school dumbphones. And I miss the airtime display, but suspect that's about them needing the phone to be able to be unlocked. I only wish they still made a QWERTY non-smartphone. So much of using a phone is answering calls or calling numbers you have in your phone book, overall ease of use would be better with easier texting than easier manual dialing. And wouldn't a flip phone like that be nice?
Date published: 2019-11-22
Rated

1

out of

5
by
Maddyrae
from
I wish I could give it no stars.
There is no way to check your days and minutes without going online. I think this is planned. It's so easy to go over. The phone is hard to turn on. The notification for calls and messages are hard to hear, that's if it even bothers to alert you to messages. It's hard to shut off. It easy to turn on the camera and eat up your battery, with is not very robust. This phone has none of the features that I wanted on a cell phone. I was forced to change because of the 'upgrade.' They should have called it what it was, a down grade. I have a phone for emergencies, but a phone that does not work creates more problems than it solves.
Date published: 2020-04-08
Rated

1

out of

5
by
Flo K
from
Piece of Junk
User unfriendly--instead of a list of calls and texts, it shows bubbles with the whole message, making you have to scroll through inches and inches of texts to find the one you want. Does not erase single texts, just strings. Even when the phone shows you have signal, won't send a simple 3-line text. Does not notify you that your text did not send. Does not display your current minute total and end date. Hides key features like "resend text" under layers so you have to search for even the simplest things. There is one for free on the tracfone site right now and even at that, it is overpriced.
Date published: 2020-06-24
Rated

1

out of

5
by
skier
from
Want my old phone back
Not happy about forced upgrade. Liked my old flip better. It had all I wanted - just what I used it for - phone calls. It had caller ID, easier contact list, and displayed minutes and service date right on main screen. This new phone has poor quality sound and low volume on ringer. I barely hear it ring. Last call I received the voice speaking was garbled. Phone has more stuff loaded on it than I want to mess with. Wish I could remove some of it. Only thing I like so far is the size of numbered buttons. The navigation key ring is too narrow. Why change a good thing!
Date published: 2019-11-21
Rated

1

out of

5
by
Anonymous
from
Phone Works Now But Stopped Working!
This phone worked fine for a short time, but then stopped turning on. It seems to be working fine now but to get it working again I let the phone stay on charger a few hours (while the battery would heat up some). I then disconnected charger and took out the battery and then connected the charger again. The phone would then try to turn on but it would turn back off (about every second), however when I stuck battery back in while the phone was trying to turn on, it showed battery at 100% and then turned off completely. Then I pressed the red button and the phone turned all the way on. After I left the phone connected to charger overnight it seems to stay on.
Date published: 2020-10-20
Rated

1

out of

5
by
JessicaJ
from
Lacks basic features
This phone does NOT show you how much time, data, or minutes you have left. It also does not have a way to add minutes without going online or calling customer service. And following customer support's suggestions eats up your data and minutes.
Date published: 2019-09-08
Rated

1

out of

5
by
LGFLIP
from
I miss the old phone i gave up in forced "upgrade"
A POOR Choice at any price, battery on stand by only lasts a few days, Phone DOES NOT display your account balance (minutes and days of service left)an important part of using a tracfone. The phone is also larger and heavier than past flip phones putting more weight in your pocket.
Date published: 2019-08-08
Rated

5

out of

5
by
GlennT
from
Excellent flip for the money.
Phone arrived refurbished but looked brand new. Built sturdy. Like the big lit up key pad. Sound is great. Easy to understand and use instructions. I like everything about this phone. Thanks!
Date published: 2019-08-06
Specifications
SIZE 4.13'' x 2.08'' x 0.74'' inches
STANDBY TIME Standby time up to 12 days
WEIGHT 4.16 (ounces)
BAND (FREQUENCY) Technology: LTE
INCLUDED BATTERY Battery Lithium-ion 1350mAh
HEARING AID M4/T4
TALK TIME Talk time up to 6.5 Hrs
What's in the Box?
Includes Charger
Battery
Activation Card
Services Guide and Quick Start Guide. Safety & Warranty Information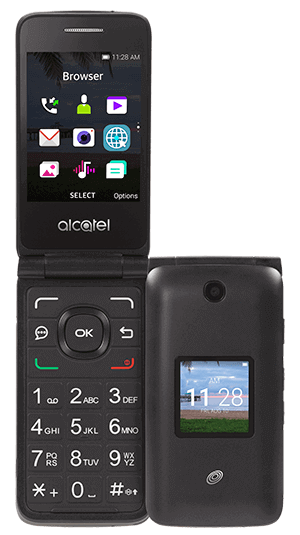 A Service Plan Required for Activation. Plans are not returnable or refundable.
WARNING: Cancer and Reproductive Harm - www.P65Warnings.ca.gov
Tracfone Nationwide Prepaid Wireless:
No activation fees, contracts, monthly bills or credit checks.
Unlimited Carryover® of unused talk, text and data will not expire***
More features
Pre-loaded apps:
The Alcatel MYFLIP™ gives you only the things you need. That's why the essentials are already installed on the phone, like the web, email, and calendar apps.
512MB internal memory:
Store contacts, photos, games, apps, and more. If you need more storage, you have the option to install a 32GB microSD memory card.
2MP front-facing 60° angle camera:
Take beautiful, dynamic pictures of yourself that'll look great on social media. Pull a friend into the frame to capture memories that'll last a lifetime.
1350 mAh battery:
With up to 10 hours of talk time, you can feel confident leaving the charger at home.
2.8-inch QVGA (320x240) TFT-TN display:
To turn on the Alcatel MYFLIP™, simply flip it open and hold down the END/POWER key. The screen will instantly light up, making it ready to use right away.
We are sorry but this device is not available currently!
Please add your email and we will notify you when this device can be purchased: SUBMIT
*TETHERING TO ANOTHER DEVICE IS PROHIBITED. OTHER LIMITATIONS APPLY. Please refer to your terms and conditions.