Save $20! Get Yours Today!
TCL A1X (A503DL)
TCL A1X (A503DL)
is rated out of
5
by
39
.
Choose from below
SPEED 4G LTE/Wi-Fi®
USAGE TIME Talk time up to 2G: 20hrs, 3G: 15hrs, 4G: 12hrs
DISPLAY 5.5'' HD FWVGA+ 18:9 Display
STORAGE Internal Memory 2GB RAM / 16GB ROM
CAMERA 13MP rear camera with LED flash
DIMENSIONS 5.76 x 2.7 x 0.33 inches
The TCL A1X offers premium smartphone features for a great price. Dual-rear cameras provide vibrant, high-quality pictures, which can be fully enjoyed on the spacious 5.5-inch HD+ Full View Display. Paired with a large 3000mAh battery, fast processor, and the latest Android apps so you can read more news, check more social updates, and surf the web with ease.

In the next step, you will have the option to bundle your Phone with one of our no-contract plans.
A Service Plan Required for Activation. Plans are not returnable or refundable.
---
Rated

1

out of

5
by
Gabbt
from
Charging takes forever
I have had this phone for a little under a year. It takes about ten minutes to drop from fully charged to 60% and takes literally all night and the next day to charge back to 84%. Activating the phone was miserable the first three days of being active was the phone installing the same three updates about six times each. Each update required manual reboots, so i spend three days turning the phone on and off. Then the have sent the same welcome email and text about 20 times. I activated the phone so we could have a means of communication while we were out, but i ended up being harassed by tracfone messages. I appreciate tracfone because it's affordable, but it used to be far less annoying to work with.
Date published: 2020-03-05
Rated

5

out of

5
by
SteveM
from
Beats the specs and runs great
The specs on the Tracfone store page were incomplete but underrepresented this really nice budget phone. It actually has 3 cameras, 2 in the rear (13MP + 2MP depth) and 1 in the front (5MP). It has four processor cores, with a reasonable clock speed. HD shows look eye-popping and impeccable when played on it. And you get roughly 10GB of storage to play with for your own apps (and a slot for an SD card for even more storage). Setting up the phone was almost slap-easy, migrating the apps and contacts from my former Android phone pretty easily. The overall performance is snappy, with RAM to spare. The battery is easily above average in maintaining charge. I have not had any speaker issues noted in another review. The only significant issue I had was the Voicemail app didn't work, but I fixed that by installing Youmail. Also, I temporarily bricked the phone when playing with experimental Google Chrome settings (flags), so I advise not going near those for this phone (or probably any budget phone). How these phones are able to quickly recover themselves is one of the great reliefs with newer model Android phones.
Date published: 2019-12-12
Rated

4

out of

5
by
CGSAV
from
Good processor upgrade.
Got this about month back. 1.5 processor offers faster speeds and downloads. Also the upgrade screen & hd makes this as one of the top of not top TracFone lower prices phones. As fast as some of the higher priced phones. Good job TracFone & Alcatel. Keep the yearly upgrade coming.
Date published: 2019-11-23
Rated

1

out of

5
by
Arcane
from
Terrible Quality
So I have had this phone for just over 24 hours and already both speakers have either stopped working or has lost most of it's sound. When calling, I am told that I cannot be heard. So at the very least, this phone fails at being a phone. I can't be heard and now I can't hear them. So now that we have established that this phone isn't even good at it's primary job. Let's talk about a few of the other flaws. Phone over heats. And even though I have adaptive brightness cut OFF the screens brightness still changes randomly and regularly on its own. When I am taking a video call from my girlfriend in another country, the battery still drains while charging. These are just the things I have found after 24 hours. It's amazing how you can put out something with quality THIS BAD, and still have the nerve to put it out saying it's good.
Date published: 2019-11-27
Rated

1

out of

5
by
Doug5077660
from
Bluetooth and location services have bugs
I've had this phone for two weeks, and I have spent tons of time getting these two features to work. Bluetooth: Connects just fine, and is stable, with my vintage-2014 Bluetooth Plantronics headset, but does not work well with my 2019 Toyota Bluetooth. As I show in the attached video, if I start the phone with my Plantronics headset, then switch to the car, it stays up and works fine, UNLESS I try to use a podcast app. (I've tried several, and they all give the same behavior as the Google Podcast app, as shown in the video.) Otherwise, the Bluetooth connection cycles between being connected and disconnected. Location services: It almost never successfully reports my location to the Google location sharing servers. I have tested this a dozen times with my sister.
Date published: 2021-01-25
Rated

1

out of

5
by
Dominci
from
By far the worst phone ever.
After 3 days I am so done. The brightness has changed 4 times since I started this review. Make that 5! It's been charging for almost 30 minutes and is at 5%. Half the time it was off, half I've been online with no other apps running. It takes a long time for things to open/start even right out of the box. It shuts off and goes dark randomly and the sound is not good. There is so much wrong with this junk I'm stunned TracFone sells it. I have lost all faith in them for putting this on the market and keeping it there. I've owned at least 10-12 different phones, all but 2 have been budget phones and there isn't one that comes close to this waste. I now have to kill at least 2-3 hours returning, buying and setting up. Shame on you TracFone, Alcatel, Walmart and anyone else havng anything to do with this pile of $#!+. Do not waste your time.
Date published: 2020-04-30
Rated

1

out of

5
by
Allan V
from
Activation
Bought three phones. None would activate. Check my records.
Date published: 2020-12-23
Rated

4

out of

5
by
VTer
from
Great value - unless you need wifi calling
I was very happy with my TCL A1X that I had for a year. I eventually, reluctantly traded it in for an iPhone, because I needed to be able to use wifi-calling in the place where I was moving. Apparently TCL A1X are capable of wifi-calling in some regions, but not in others. Wifi calling didn't end up being compatible with my TCL A1X, which was confusing and disappointing because of persistently incomplete I information received from the Tracfone sales department. For the year that I used the TCL A1X and did not need wifi-calling, however, it was just what I wanted: calling, texting, taking basic photos, using some basic apps like Zoom, Venmo, voice recording, Gmail, Google Calendar, Maps, etc. I frequently turn off data to reduce usage, and that was very easily done. The screen worked great, the typing worked beautifully, and it's lightweight. Extraordinary what you can have in your pocket for such an affordable price.
Date published: 2021-03-02
Specifications
SIZE 5.76 x 2.7 x 0.33 inches
STANDBY TIME Standby time up to 2G: 450hrs, 3G: 420hrs, 4G: 300hrs
WEIGHT 4.62 (ounces)
BAND (FREQUENCY) Technology: GSM/LTE
INCLUDED BATTERY Battery 3000mAh Lithium-Ion
HEARING AID M4/T4
TALK TIME Talk time up to 2G: 20hrs, 3G: 15hrs, 4G: 12hrs
What's in the Box?
Includes Charger
Battery
Activation Card
Services Guide and Quick Start Guide.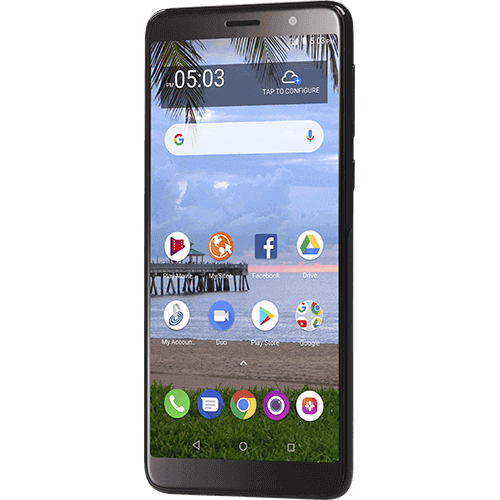 A Service Plan Required for Activation. Plans are not returnable or refundable.
WARNING: Cancer and Reproductive Harm - www.P65Warnings.ca.gov
Tracfone Nationwide Prepaid Wireless:
No activation fees, contracts, monthly bills or credit checks.
Unlimited Carryover® of unused talk, text and data will not expire***
More features
MAXIMIZED SCREEN - MINIMIZED BODY:
The 13MP + 2MP depth sensing rear cameras allow you to focus on your subject in real-time with a blurred background effect for Portrait Mode photos that stand out.
RELIABLE PERFORMANCE, ALL DAY:
The power-efficient 3000mAh battery keeps up with the large display and a powerful processor, which can handle your fast pace and today's latest apps.
THE BEST OF ANDROID:
The TCL A1X comes with the latest Android apps and features including Google Assistant, which helps you get things done and find answers on-the-go, using just your voice. Google Assistant can manage hundreds of tasks and services - it's your own personal Google, always ready to help.
DISPLAY:
Spacious 5.5-inch 18:9 Full View Display into a sleek, compact smartphone with narrower borders.
We are sorry but this device is not available currently!
Please add your email and we will notify you when this device can be purchased: SUBMIT
*TETHERING TO ANOTHER DEVICE IS PROHIBITED. OTHER LIMITATIONS APPLY. Please refer to your terms and conditions.