Save $70! Plan Purchase Required.
Samsung Galaxy J3 Orbit (S367VL)
Samsung Galaxy J3 Orbit (S367VL)
is rated out of
5
by
170
.
Choose from below
SPEED 4G LTE/Wi-Fi®
USAGE TIME Talk time up to 19 Hrs
DISPLAY 5.0'' HD TFT Display
STORAGE Internal Memory 16GB ROM - 2GB RAM
CAMERA 8MP main camera - 5MP front-facing camera
DIMENSIONS 5.62'' x 2.76'' x 0.35'' inches
Introducing the Galaxy J3 Orbit.
An easy-to-use Galaxy smartphone designed for your lifestyle. Shoot and share on a simple camera with plenty of storage to keep your photos. Browse and stream on the go, and get customer support when you need it.

In the next step, you will have the option to bundle your Phone with one of our no-contract plans.
A Service Plan card is required for activation. Plans are not returnable or refundable. Text SAS367VL to 611611 for mobile tutorials.
---
Rated

5

out of

5
by
Anonymous
from
Good Transaction Again!
I purchased this when my husband dropped his Samsung Galaxy J3 Luna and we needed a replacement fast. I ordered the Orbit on Tuesday evening and it was on my doorstep about noon on Thursday. The transfer of his apps and settings using the Samsung toolbox was terrific. It even transferred over his background picture. The hardest part was decrypting the SD card on the old phone to prepare for installation to the new phone. I searched and found the steps online. The transfer of the tracfone service on the tracfone website account page was fast and painless (less than 30 minutes). We have been using tracfone for about 10 years and have been pleased.
Date published: 2020-08-26
Rated

1

out of

5
by
BMJA
from
Returned this phone
Returned this phone I tried for 3 days to get this phone to work. I lost approximately 4500 minutes and 1.5 GB trying to get this phone to work. The only thing that transfered was my service time. When trying to make a call on it, it would want to connect me to an outside operator so I could place my call with a credit card. I had to reset to factory settings to get the service to work. When I reloaded my apps it went back to wanting to connect me to an outside operator again. I returned this phone and went with a totally different phone and had no problems. On a scale of 1 to 10, I give this phone a 0.
Date published: 2019-06-23
Rated

5

out of

5
by
Weatherfreak01
from
A very good phone
I upgraded from an old Lg model and am very pleased! This phone is very fast, efficient, and just all around great to have. It was a huge upgrade for me, and I have read reviews where others were complaining about the very things I am complementing and it boggles my mind. I'm just not sure how a phone is suppose to be any faster. I really can't compare it against the more expensive galaxy phones, except hundreds of dollars. I highly recommend this model for your basic phone needs.
Date published: 2019-01-30
Rated

1

out of

5
by
jann w
from
frustrating!!
So far this morning, I've spent 5 hours on this phone and haven't even got to the phone part. Rereading the description, it touts all the features but the phone. Be warned. I have a computer and don't need another one. It makes me sign into wifi and google and then tells me all my freshly made passwords are invalid. I've tried holding the home button to get to the phone part....nothing happens. I've stalled on the keyboard instructions and the QR code...both seem to be on an endless loop with no way to advance. So far, I really really hate this....
Date published: 2019-05-14
Rated

5

out of

5
by
Echos411
from
Great phone for me
This is my first Samsung phone and I am very pleased with it thus far. I had a ZTE Maven and it was becoming problematic and bad setup of storage space, even with external sd card. Samsung has lots of nice features and the color is so vivid. It's like a whole different experience. I'm glad I got the Samsung and I can finally install additional apps that I want.
Date published: 2019-01-19
Rated

1

out of

5
by
DDBM
from
Not cracked up to be all that
I have been a tracfone user for years, but I don't like how this phone corrects words that you actually want to use. I don't like how there is no notification (sound) on texts and I had 1.5 mb or GB to start out and for some reason they were depleted for some unknown reason the only time I used the internet was when I was on a Wifi connection, I'd like to know if doing group texts depletes that, I can no longer receive them or pictures, what the heck! I thought that was part of getting just text. Have no clue what Bixby is. Bought from QVC or HSN was never explained
Date published: 2019-10-29
Rated

1

out of

5
by
Butch Bianco
from
All features work, but sound VOLUME is horrible.
I like the phone, but with all the volume settings turned up to their highest level, I can barely hear the phone ring. As for playing a .mp3 song, forget about it. This is a copy of the initial review I submitted, but tracfone will not add my review. All I get is an email that my review is posted. Where? This phone is NOT for you if you need a little volume for alarms, notifications, etc...
Date published: 2019-01-28
Rated

5

out of

5
by
User1234
from
Love this phone
I bought this phone about 3 weeks ago and I just love it. It's fast and for the amount I use a mobile phone the price was very good. It also has a battery that can be replaced. I am very happy with this purchase.
Date published: 2018-12-31
Specifications
SIZE 5.62'' x 2.76'' x 0.35'' inches
STANDBY TIME Standby time up to 21 days
WEIGHT 5.08 ounces
BAND (FREQUENCY) Technology: 4G LTE
INCLUDED BATTERY Battery Li-Ion 2,600 mAh (Removable)
HEARING AID M3/T3
TALK TIME Talk time up to 19 Hrs
What's in the Box?
Includes Charger
Battery
Activation Card
Services Guide and Quick Start Guide.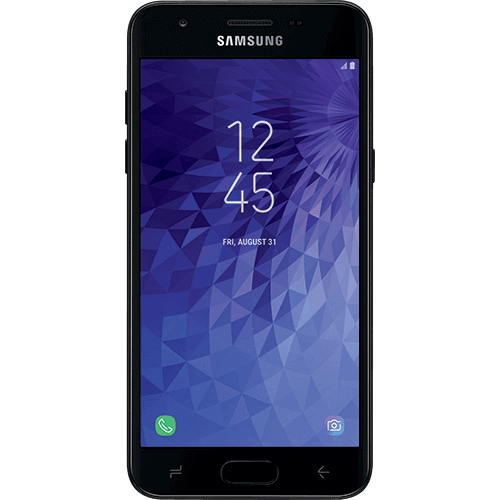 A Service Plan card is required for activation. Plans are not returnable or refundable. Text SAS367VL to 611611 for mobile tutorials.
WARNING: Reproductive Harm - www.P65Warnings.ca.gov
Tracfone Nationwide Prepaid Wireless:
No activation fees, contracts, monthly bills or credit checks.
Unlimited Carryover® of unused talk, text and data will not expire***
More features
RAM:
Room to grow - Store your favorite photos with 16GB4 of built-in memory. When you need more space, expand your memory up to 400GB with a microSD card.
CAMERA:
Capture your life - Our best Galaxy J3 camera yet easily captures crisp, bright memories on an 8MP main camera and great selfies on a 5MP front camera.
PROCESSOR:
1.35 GHz Octa-Core Processor
DISPLAY:
Display 5.0'' HD TFT 1280 x 720 pixels
We are sorry but this device is not available currently!
Please add your email and we will notify you when this device can be purchased: SUBMIT
*TETHERING TO ANOTHER DEVICE IS PROHIBITED. OTHER LIMITATIONS APPLY. Please refer to your terms and conditions.