Samsung Galaxy J7 Crown (S767VL) - RECONDITIONED
Samsung Galaxy J7 Crown (S767VL) - RECONDITIONED
is rated out of
5
by
119
.
Choose from below
SPEED 4G LTE/Wi-Fi®
USAGE TIME Talk time up to 24 Hrs
DISPLAY 5.5'' HD TFT Display
STORAGE Internal Memory 16 GB (device only)
CAMERA 13MP main camera - 13MP front-facing camera
DIMENSIONS 6.03'' x 3.00'' x 0.34'' inches
Introducing the Samsung Galaxy J7 Crown (S767VL).
RECONDITIONED. The Samsung Galaxy J7 Crown can enhance your life in so many unexpected ways. It has all the essentials, plus more – all for a great low price. If you're into watching videos or playing games, the large HD display is made for you. For photo fanatics, the 13MP cameras are sure to impress. Music fans love the Samsung Galaxy J7 Crown, too. It comes with 4G LTE/Wi-Fi connectivity for fast streaming and downloading. It's even enabled with Bluetooth, so you can connect your smartphone to headphones or speakers. To personalize your new Samsung Galaxy J7 Crown, start with some accessories, like a phone case or Bluetooth earbuds.
In the next step, you will have the option to bundle your Phone with one of our no-contract plans.
A Service Plan card is required for activation. Plans are not returnable or refundable. Service Plan card is required for activation. Text STSAS767VL to 611611 for mobile tutorials.
---
Rated

4

out of

5
by
Mike Knojuan
from
Great Phone
I bought this phone as an upgrade from my old phone. I was pleasantly surprised as the phone looked brand new with no scratches or blemishes whatsoever. And, using the Tracfone web site to transfer my number was incredibly easy. The capabilities of this phone far greater than in the past. The Quick Reference Manual was well written and easy to follow which allowed me to customize my phone in no time at all. I could not be happier. I gave it 4 stars as I can not replace the battery should it go bad.
Date published: 2020-02-08
Rated

1

out of

5
by
David Stellwagen
from
Endless downloads
The phone should come with a more updated or more complete software package. At least twice a day it notifies me that it needs to connect to wifi to download endless updates. This is killing me, I'm on satellite and have to pay for bandwidth. If the files are too big to download from tracfone they are too big to pay somebody else to download. Doesn't seem to be a work around, customer service says I'm out of data (which this post proves wrong), then tells me to add a new apn, which the phone won't let me.
Date published: 2019-08-15
Rated

5

out of

5
by
Mike the Dad
from
Excellent service and quality!
I ordered 2 of these to upgrade my kid's phones. I am very appreciative of opportunities to save on electronics by buying quality refurbs. My kids phones were previous refurbs from TracFone and were less than 1GB Ram and running Android 5.1. So this upgrade to Android 8 with 2GB of RAM is what they needed. They arrived in a day (I think.) They looked brand new. They fired right up after charging. I went through the phone number transfer through the TracFone website. They were both transferred in less than 15 minutes! My sons phone synced right to his Samsung smartwatch (also a refurb off amazon!). These phones are fast and run apps better with the 2GB ram. I also looked at the camera. It looks like fantastic resolution. The newer Android has some good features, like the keys pop up when you type so you can tell you hit the correct one. It is a good looking interface! It runs more apps faster than the old phones. I am most appreciative of TracFone! The transfer of phone numbers that quickly was most pleasing!
Date published: 2019-08-16
Rated

4

out of

5
by
Fred T
from
Great Buy
Bought last week Delivered in 2 days. Looks and feels like brand new. Functions as advertised. Transferred phone number, plan, minutes, etc with rep. by phone. Excellent! Tried to transfer data with Transfer Wizard and it didn't work.
Date published: 2019-08-26
Rated

5

out of

5
by
Eguyntx
from
Excellent
Nice upgrade at a budget price everything works fine ! Excellent phone packed with features!
Date published: 2019-07-24
Rated

3

out of

5
by
mf 279
from
OK phone
I got this phone after the other one I bought couldn't be activated . The phone works alright but the battery does not hold as stated . I don't know about talk time as I don't talk for 24 hours !
Date published: 2019-09-12
Rated

3

out of

5
by
Jane01
from
Good phone, but doesn't store all photos
I bought this phone to replace an obsolescent tracfone, was excited about the camera. Phone works fine, but often, not always, shortly after taking a photo it does not show up in the gallery. I thought it might be a bad sd card, but a local retailer said it looked more like a bad OS. If i send the photo immediately to a cloud service, it saves, but i can't constantly interrupt what i am doing to send a photo or video to the cloud. My old Stardust did better on that score. For what i paid for this, i expect much better. Have your reconditioned Crowns fixed this?
Date published: 2020-05-31
Rated

5

out of

5
by
kristikay
from
Great camera, battery
This is about the best phone I have ever bought. The camera quality is excellent, and the battery is extra long-lasting. The screen is a bit too fragile, but the replacement plus digitizer is less than $30, a great price!
Date published: 2020-03-09
Specifications
SIZE 6.03'' x 3.00'' x 0.34'' inches
STANDBY TIME Standby time up to 27 days
WEIGHT 6.38 oz
BAND (FREQUENCY) Technology: 4G LTE
INCLUDED BATTERY Battery Li-Ion 3,300 mAh
HEARING AID M3/T3
TALK TIME Talk time up to 24 Hrs
What's in the Box?
Includes Charger
Battery
Activation Card
Services Guide and Quick Start Guide.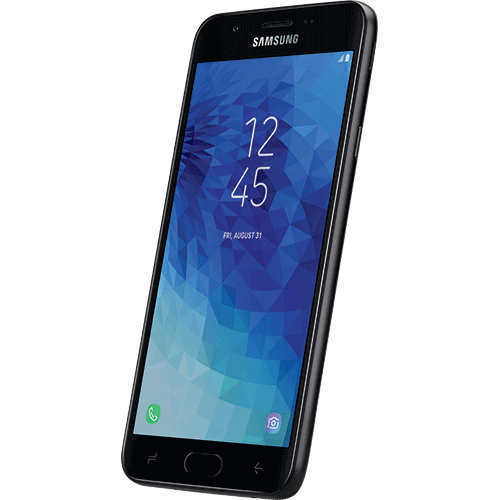 A Service Plan card is required for activation. Plans are not returnable or refundable. Service Plan card is required for activation. Text STSAS767VL to 611611 for mobile tutorials.
WARNING: Reproductive Harm - www.P65Warnings.ca.gov
TracFone Nationwide Prepaid Wireless:
No activation fees, contracts, monthly bills or credit checks.
Unlimited Carryover® of unused talk, text and data that never expires*
*service must be active and in use within each six month period
More features
Android™ 8.0 Oreo™ OS:
Samsung uses the Android™ 8.0 Oreo™ operating system to make phones smarter, safer, and faster.
16GB ROM storage:
16GB is a lot of storage for photos, videos, apps, and games. But you can actually increase the storage capacity up to 400GB if needed with the use of a microSD card (not included).
13MP cameras:
The selfie camera is just as powerful as the rear camera. After you snap each photo, enhance them with fun stickers and filters before sharing them with friends and family. Both cameras work well in low-light settings, too, for great shots day or night.
1.56GHz octa-core processor:
Games and videos tend to drain the battery life on cell phones. But this octa-core processor helps prevent that, so you can use your phone for longer.
5.5-inch HD display:
The Samsung Galaxy J7 Crown offers endless entertainment. Whatever you're watching or playing, the large HD display makes the moment even better.
We are sorry but this device is not available currently!
Please add your email and we will notify you when this device can be purchased: SUBMIT
*TETHERING TO ANOTHER DEVICE IS PROHIBITED. OTHER LIMITATIONS APPLY. Please refer to your terms and conditions.