ALCATEL MYFLIP™ (A405DL)
is rated out of
5
by
169
.
Choose from below
SPEED 4G LTE
USAGE TIME Talk time up to 6.5 Hrs
DISPLAY 2.8'' QVGA (320x240) TFT-TN Display
STORAGE Internal Memory 512MB RAM + 4GB ROM
CAMERA 2MP FF camera 60° angle camera
DIMENSIONS 4.13'' x 2.08'' x 0.74'' inches
SMARTPHONE FEATURES WITHOUT THE BULK.
Looking for a compact, easy-to-use phone? The Alcatel MYFLIP™ is for you. This flip phone fits conveniently in any pocket or bag, so it's always ready at a moment's notice. It may be small, but it comes with everything you need to connect with family and friends, including a high-quality camera. This mobile phone even has lightning-fast 4G speeds to make browsing the web effortless. And whenever you're not using it, just flip the phone closed for safekeeping until the next call comes in. Find compatible accessories for your Alcatel MYFLIP™, like portable chargers and car chargers, online at the Tracfone Accessory Shop.
In the next step, you will have the option to bundle your Phone with one of our no-contract plans.
A Service Plan Required for Activation. Plans are not returnable or refundable.
---
Rated

4

out of

5
by
Martini12
from
A fairly simple phone
We bought this phone for an elderly family member. She seems to be doing well in getting used to this phone. One problem is the location of the camera button on the side. She tends to touch the easy to push camera button when handling the phone. The camera showing up on the screen causes some confusion. Transferring from her old phone to the MYFLIP was more difficult than normal. Could not do the transfer online, had to call in and get a tech's help. Now activated the phone has excellent reception, voice clarity is good. The remaining minutes and time does not show on the screen. Other than the couple of issues we are happy with this phone.
Date published: 2019-01-05
Rated

1

out of

5
by
Sweetsuziq
from
Piece of junk
I got this ph. about a month ago. 1st thing, I couldn't get my contacts to transfer over. 2nd, I took a photo and it's like looking at a negative. Tried to edit it, that didn't help. Thought maybe it would take a better pic. outside. Tried that and that didn't work. Thought I would take a selfie and you can't take a selfie with this phone. Who ever heard of such a thing?!!! 3rd, You have to delete everything one by one.(that sucks) 4th, The battery needs to be charged everyday. 5th, The fonts are constantly changing on they're own. In other words this phone really doesn't even rate as high as a piece of JUNK!!
Date published: 2019-06-12
Rated

5

out of

5
by
Mr Dailey
from
The Alcatel myflip is a great phone!
I have been using this phone a while now and I have been having a great time with it. So far I have not have any problems with it. The camera quality is pretty decent. Speaker is nice and loud. It is pretty durable. One time I dropped it on a big hard rock but it took no damage not even the screen on the front. The texting and emailing isn't to bad same with the web browser. The calling length is pretty good as well. When your on the phone with someone and you're in a loud area make sure to put it on speaker. So yeah is phone is a good alternative to your big bulky smartphone. So this phone is really fast as well. Welp i rate this 5 stars good job Alcatel.
Date published: 2020-02-26
Rated

1

out of

5
by
Farmgirl1964
from
DO NOT BUY THIS PHONE
My dad bought the simplest phone he could. His old phone finally gave up after 15+ yrs! This phone does NOT hold a bettery charge at all. He does not talk on it often or for many minutes at a time. Ex: old phone needed charging once a week. This phone barely makes it a day. Also: The volume for the ringtones is so low I can barely hear it in the house. Dad needs to hear it over the noise of farm equipment! Vibration is no help. I should have gone with him when he had to get a new one. It was the most basic. And, Walmart overcharged him. DO NOT BUY THIS PHONE!
Date published: 2019-06-23
Rated

1

out of

5
by
onemansopinion
from
Poor choice
Had to replace my phone because of the move to 4G. I had a basic flip phone and was looking for an inexpensive replacement. The only one TracFone offered was this Alcatel My Flip. Maybe I should have looked at other carriers because this phone is not in the same league as my old LG. The battery life is terrible. This thing has stuck me more times in the past three months than the Lg ever did over the three years I had it. The info says it has a standby of 12 days but I can't get one week out of it without a recharge. I'd hate to think how long it would last if I used it much. I recommend that you pass on this phone if you're expecting reliability.
Date published: 2020-04-01
Rated

1

out of

5
by
CharlesE
from
Poor performance; short battery life.
My old flip phone received a dunking, as a result quit. I only need a simple phone, no bells or whistle. So naturally I went for another flip phone. This phone has extras I do not use, but the worst thing is the battery will not make it through the day. Sadly I purchase two, in order to have a back-up. The battery on the second phone is no better. I must charge the batteries each morning, or leave them charging overnight. Neither will make it long enough to consider reliable. Stay away from this phone. Looks like they are being discontinued anyhow.
Date published: 2019-04-20
Rated

2

out of

5
by
Kawi12
from
Bluetooth doesn't work properly
Phone will not transfer my contact list to Bluetooth. I get a message saying my phone doesn't support tranfer. Was told on Live Chat that some phones are like that. Cannot make calls from Bluetooth with this phone, I can only recieve them. My old LG phones had no problem with the Bluetooth on my car. The camera and sound buttons are to easy to turn on being on the side of the phone. Have to adjust the sound a lot. One positive thing is I can get service were my old phone did not, and even though the speaker is on the back of the phone it can still be heard well. Just wish the Bluetooth worked.
Date published: 2018-12-03
Rated

3

out of

5
by
Bud1941
from
Ring Tone & Notification Tone Too Low
I've owned this phone for about 6 months and have not experienced any real problems. Data, Text, Minutes, etc., transferred with no problem. My only complaint is ring tone is entirely too low (I have excellent hearing). I keep all tones set to the highest level of 15, yet is entirely too low. To hear ring tone, I have to keep phone in my shirt pocket and then ring tone is about 1/3 what it should be. Was also disappointed that you cannot obtain remaining data, minutes, text, expiration date anywhere in phone settings. Otherwise, no complaints.
Date published: 2019-02-21
Specifications
SIZE 4.13'' x 2.08'' x 0.74'' inches
STANDBY TIME Standby time up to 12 days
WEIGHT 4.16 (ounces)
BAND (FREQUENCY) Technology: CDMA
INCLUDED BATTERY Battery Lithium-ion 1350mAh
HEARING AID M4/T4
TALK TIME Talk time up to 6.5 Hrs
What's in the Box?
Includes Charger
Battery
Activation Card
Services Guide and Quick Start Guide. Safety & Warranty Information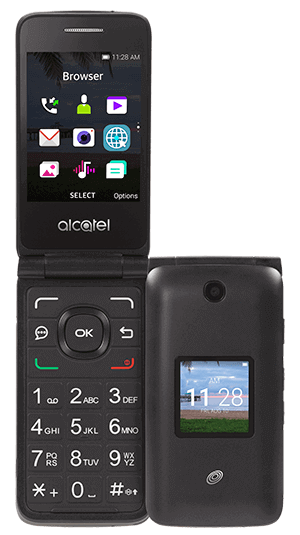 A Service Plan Required for Activation. Plans are not returnable or refundable.
WARNING: Cancer and Reproductive Harm - www.P65Warnings.ca.gov
Tracfone Nationwide Prepaid Wireless:
No activation fees, contracts, monthly bills or credit checks.
Unlimited Carryover® of unused talk, text and data will not expire***
More features
Pre-loaded apps:
The Alcatel MYFLIP™ gives you only the things you need. That's why the essentials are already installed on the phone, like the web, email, and calendar apps.
512MB internal memory:
Store contacts, photos, games, apps, and more. If you need more storage, you have the option to install a 32GB microSD memory card.
2MP front-facing 60° angle camera:
Take beautiful, dynamic pictures of yourself that'll look great on social media. Pull a friend into the frame to capture memories that'll last a lifetime.
1350 mAh battery:
With up to 10 hours of talk time, you can feel confident leaving the charger at home.
2.8-inch QVGA (320x240) TFT-TN display:
To turn on the Alcatel MYFLIP™, simply flip it open and hold down the END/POWER key. The screen will instantly light up, making it ready to use right away.
We are sorry but this device is not available currently!
Please add your email and we will notify you when this device can be purchased: SUBMIT
*TETHERING TO ANOTHER DEVICE IS PROHIBITED. OTHER LIMITATIONS APPLY. Please refer to your terms and conditions.