DORO (D7050TL)
is rated out of
5
by
106
.
Choose from below
SPEED 4G LTE
USAGE TIME Up to 11 hours
DISPLAY Internal display is 2.8 inches
STORAGE 512MB RAM /4 GB ROM
CAMERA 2 MP Rear Camera/Video Recorder
DIMENSIONS 4.2'' (H) x 2.2'' (W) x 0.8'' (D) inches
Rely on the DORO flip phone for all the moments that matter. Whether you're snapping photos or texting friends, this phone has all the bases covered. The keypad is designed to make life simple, with its widely separated, high-contrast keys, so you can text and dial in no time. Plus, one of the best features about this phone is its two screens. The internal display is the perfect size for viewing pictures or watching videos. When the phone is closed, you can use the external display to quickly check the time. It's just one more way the DORO helps you be more efficient and ready to take on the day.

In the next step, you will have the option to bundle your Phone with one of our no-contract plans.
Service Plan Required for Activation. Plans are not returnable or refundable. Text DOD7050TL to 611611 for mobile tutorials.
---
Rated

2

out of

5
by
Brigid
from
mixed reviews
I bought the DORO phone for my brother, who is hard of hearing and developmentally disabled. What I love: Very clear audio quality; large buttons; no pocket dialing (as it's a flip phone); SD card compatible for loading lots of music. What I do not love: Navigation between the "apps" and settings is VERY awkward. You cannot organize your music or create playlists. I wanted a basic phone, and the DORO is that, but Tracfone treats the DORO like it's a smartphone (3 bucket system: talk, text, data). Not a fan. The DORO is also having random errors, necessitating taking out the battery and putting it back in. Makes me concerned for its longevity!
Date published: 2019-10-17
Rated

5

out of

5
by
Pamela Jean
from
Great Basic Flip Phone
I got this tracfone Doro flip phone for my senior age brother (60) who is hard of hearing and somewhat mentally challenged. He Loves It !!! This is a Great Basic phone he only uses it for calling, he does not use messaging or data. The Doro Sound Quality is Excellent and has Loud Ring-Tones, easy to set up and use. He does not text so i have to go online on my computer and get his minute balance and then call and tell him what it is. An old tracfone i had years ago the minutes balance would automatically display on the screen after each call, i wish the new ones did that. Also tracfone should sell talk minutes only and not combine it with text messaging and data if not wanted.
Date published: 2020-02-21
Rated

3

out of

5
by
topcat2069
from
Works Great, kinda
I got rid of my smart phone (perhaps I'm not smart enough to "get it") I wanted a flip phone because ... well I just wanted one. I first got a ZTE and it's great but the buttons are too small. The Doro works fine, most of the time, texting is a chore and the OS is sluggish. The buttons don't responded as they sometimes jump to the next letter or it just stops for second and the moves on. I'm happy with the phone aspect of it but I find the OS feels more like the old flip phone days when even though the service was not good every where and the OS did nothing more than make and receives calls (and you needed a pager so if someone wanted to get in touch with you, they couldn't just call anytime)
Date published: 2019-10-29
Rated

5

out of

5
by
Lee96516
from
Works very well
I purchased this from Tracfone because I got a notice that my old phone, a Samsung T404G, which I had purchased (also from Tracfone) in 2011, was obsolete with today's 4G network. This explanation accounted for the poor connectivity for voice calls and texts indoors, and poorer battery life over time. The new Doro 7050 works much better. I can now receive calls and texts indoors, and the battery life is longer. I don't make or receive many cell calls, and don't have the need for smartphone capabilities, so this is ideal for me. I'm pleased with the performance and value of the Doro.
Date published: 2020-10-06
Rated

1

out of

5
by
Jbird
from
unable to set up in my zip code!
This phone was bought on HSN by my 80 year-old mother-in-law for her husband an 82 year-old disabled firefighter. I now have spent HOURS trying to set up, transfer an old number, minutes, and service time... and according to Tracfone there is an error message saying there are no towers available and the phone will not work in this zipcode. Don't Tracfones work everywhere? After going to the Tracfone website and entering in the zipcode the website forwarded me to this exact same phone as working in the zipcode... that I am told will not work in the zipcode.
Date published: 2019-08-04
Rated

4

out of

5
by
Geo M
from
Easy to use
I bought this phone to replace a older flip phone which only used 3 g . As you read some of the reviews you will come across people who say it works fine but can't text .You need to keep in mind on tracfone you talk on 4glte and text on 3 g so the issue of not texting is the signal not the phone. Having the keys light up is very helpful and the sound quality is excellant
Date published: 2020-01-12
Rated

3

out of

5
by
rcpmax
from
Give and take
This phone replaced an older Tracfone flip phone. Old phone showed 2-3 bars at my house and at my work, but this phone shows no bars at all in those same 2 places. Because of that this thing was always searching for a signal and drained the battery in 2 days. Finally had to turn off data search, etc. Doro book talks about settings in the Organizer tab - such as an alarm, calculator, and file manager. The phone itself has none of those, and I would like to have the alarm for when I travel. It also talks about an FM radio - and this phone does not have that either. Only bought this because Tracfone informed me that my old phone would no longer work come January 1st. But at least my old phone works at home and at work, and has an alarm that I've used. Hobbled device if you ask me and very deserving of its 3-star rating.
Date published: 2020-07-13
Rated

4

out of

5
by
Horse lover
from
I'm happy with this phone
I purchased the DORO last year to replace a couple of older Tracfone flip phones. Overall I like it. However, Tracfone set this phone up for a different network than my previous Tracfones used. The signal is not as strong or as reliable but I don't want a smart phone. It's turns out not to be a big problem because I mostly text rather than making regular calls. I have it for backup and emergency use in the car and power failures. What I like: screen, keys, and fonts are larger and easier to read. Size and colors of displays can be changed. The menus are well designed so you can access and change features or settings easily. The outside display can be set to remain on if there is a message notification. Contacts are also easy to set up and manage. There is a top ten list that displays first so you don't have to do so much scrolling or remember speed dial digits. There are screens where you can list basic health information for emergencies. It has an emergency button on the back that notifies a contact that you need emergency help. I have a horse and ride with my phone, so that is a very good feature that solves a common safety problem. It takes decent pictures that you can message; I haven't tried the video. It is easy to use the calendar to keep track of appointments, and I like the reminders It doesn't have i'net or email so I avoid having to be continuously available to the smart phone crowd. It comes with a charging cradle and an FM radio headset. Texting is a bit of a pain because the buttons often skip ahead of the letter you want. The apostrophe is not in the main punctuation list, but it is easy to insert symbols. I still haven't figured out the file feature. If you are a devoted flip phone user and prefer counting Tracfone minutes this is a better choice than most of the older flip phones. If you go to the DORO website you will see that this phone was designed for "senior citizens." I am one of those but this is a better phone overall no matter what your age. I'm trying to maintain an "analog" lifestyle and this fits my needs. I like being able to say I don't use a mobile phone and don't put the number on website pages. I give it to friends who know it's probably not on. Everyone else gets my land line number. I am now signing off to read a book with paper pages.
Date published: 2020-01-17
Specifications
SIZE 4.2'' (H) x 2.2'' (W) x 0.8'' (D) inches
STANDBY TIME Up to 16 days
WEIGHT 4.3 (ounces)
BAND (FREQUENCY) 4G LTE Network
INCLUDED BATTERY Removable Battery 1350 mAh
HEARING AID M4/T4
TALK TIME Up to 11 hours
What's in the Box?
Activation Card
Services Guide
Battery
Charger and Quick User Guide.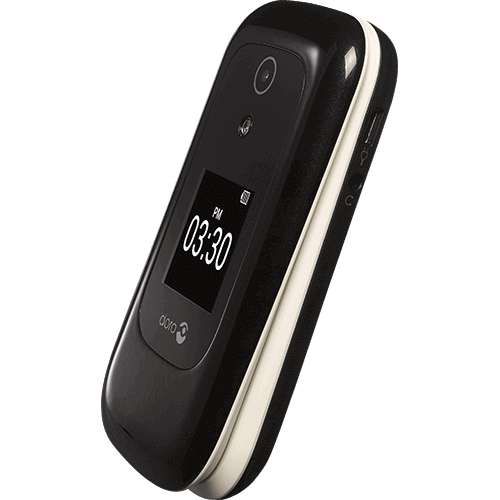 Service Plan Required for Activation. Plans are not returnable or refundable. Text DOD7050TL to 611611 for mobile tutorials.
WARNING: Cancer and Reproductive Harm - www.P65Warnings.ca.gov
Tracfone Nationwide Prepaid Wireless:
No activation fees, contracts, monthly bills or credit checks.
Unlimited Carryover® of unused talk, text and data will not expire***
More features
Proprietary KaiOS 2.5:
This operating system is designed to support all the phone's essential functions. From faster Wi-Fi to a longer battery life, it helps the DORO perform that much better.
512MB RAM/4GB ROM storage:
You won't have to worry about running out of storage anytime soon. But if you ever do need more, you can simply expand the phone's storage capacity with an optional microSD™ cad. It boosts your total up to an impressive 64GB.
2.0MP camera with flash:
Whether it's night or day, sunrise or sunset, this handy camera can help you capture beautiful photos and videos.
1350 mAh battery:
With up to 11 hours of talk time, this phone offers a full day of connectivity. No matter how busy your schedule is, you can rest assured that the DORO can keep up.
DISPLAY:
External display is 1.44 inch/ Internal display is 2.8 inches.
We are sorry but this device is not available currently!
Please add your email and we will notify you when this device can be purchased: SUBMIT
*TETHERING TO ANOTHER DEVICE IS PROHIBITED. OTHER LIMITATIONS APPLY. Please refer to your terms and conditions.