Save $20! Get Yours Today!
LG CLASSIC Flip™ (L125DL)
LG CLASSIC Flip™ (L125DL)
is rated out of
5
by
276
.
Choose from below
SPEED 4G LTE
USAGE TIME Talk Time - 6 hours
DISPLAY 2.8'' QVGA Main Display (240 x 320) + 0.9'' External Display (32 x 128)
STORAGE Internal Memory - 8GB (up to 4.3GB usable) | 1GB RAM
CAMERA 2MP Fixed Focus
DIMENSIONS 4.25'' (H) x 2.17'' (W) x 0.7'' (D) inches
Effortless Simplicity.
A phone that simply fit your lifestyle. Get a compact, stylish phone with easy-to-use features.

EXPERIENCE - PRODUCTIVITY:

Key Shortcuts customize the 4-way directional keys for quick access to your favorite features

Multilanguage Support

Tools Calendar, Calculator, Alarm, Timer, and Stopwatch

Mobile Email

Speed Dial up to 99 entries + voicemail default

SOS Key press the rear button 3 times to connect with a preset emergency contact*
*Press button 3 times to activate. Feature must be turned on, and emergency contact must be added. Cellular coverage needed for feature to function properly.
In the next step, you will have the option to bundle your Phone with one of our no-contract plans.
A Service Plan Required for Activation. Plans are not returnable or refundable.
---
Rated

4

out of

5
by
Prosit069
from
Good 4G Flip Phone
I have been a Tracfone customer for several years and needed to upgrade my 3G flip to a new phone. The features are more plentiful than I need, as my primary purpose is a telephone I can use while away from home. What I miss, are current number of minutes/expiration date shown on the phone. The old Tracfone kept track and displayed on opening the flip, but this one seems to rely on going through the website for my account. I buy the cards as needed and do not need, nor do I want, a monthly plan. For me, it's a telephone and a "smart" phone is beyond my needs! My minutes carry over when I buy an annual card; just wish the phone would keep my minutes/date on the display.
Date published: 2020-09-27
Rated

1

out of

5
by
EmperorNick
from
Not as good as my old phone
I was forced to buy a new phone because tracfone decided to longer support a phone I had purchased from them previously, and now I have to use this new phone which I do not like as much as the previous one. Plus I now have to buy data and minutes, though all I need are days, and am unable to buy just that. I do not like this new way of doing things. I was happy with my old phone and the way I was familiar with the use of it and the ability to buy minutes or days. Not every one needs to have a "smart" phone, some just want a phone that is just a phone that all it is used for is calling and not getting on the internet and taking photos, etc.
Date published: 2020-10-17
Rated

5

out of

5
by
MDEVANS
from
GREAT SENIOR PHONE
If you are looking for a phone that is easy to use without the whistles and bells, then this is the phone for you. This is exactly what I was looking for, a phone that is easy to make calls on, yet you can take pictures and text messages with. Now I don't care about texting, but you can if you want to. Numbers are easy enough to see, which is great for people that need glasses, because I can see everything without my glasses on. The only draw back would be, if you do like texting, you don't have a separate keyboard, so it is harder to type out a message with it, but like I said, I don't do texting.
Date published: 2020-09-05
Rated

1

out of

5
by
boone21157
from
Great for elderly
I bought this for my 81 year old father , he still drives and shops . the flip fits in his pocket and its what he has use since the 80s . The bad part is it does not show how much air time or service days on the screen .He is very disappointed , he does not have a credit card for do auto refill . He buys cards or gives me the cash to fill it . Shame they took this feature away . I was going to buy a 2nd one for his wife . They hate not seeing the time on the main screen . You have to text 611 and nether one can text at age 81 and texting use up more service time .. shame on you or who ever idea this was . Just shame you can not think of elderly on a fixed income ..
Date published: 2020-10-12
Rated

3

out of

5
by
Erik
from
I hope it works !!! GREAT PHONE
I've had the phone for 2 or 3 months now and I like it. My only concern is after upgrading from my old LG 440 I now am being told that this phone will not be compatible with the the Verizon buy out of Tracfone. Further more I am unable to get a clear answer from Tracfone, just annoying texts and msgs telling me of my pending doom. I've been with Tracfone for over 10 years now and have 2 other phones also in a family plan. The service has always been spectacular and I don't want to change a thing. Can someone explain what the problem is and yes I know about the 4G factor, but these annoying msgs are getting tiresome.
Date published: 2020-09-15
Rated

3

out of

5
by
dieseltrains
from
It does what I need.
A recent hospitalization taught me that using a smartphone isn't always an option, that being smaller and able to answer or make a call just by opening it can be major help. Previous experience with basic phones restrained me from buying Alcatel or ZGE, so when this LG came up I got it. It's much larger than what I imagined, but much smaller than a Moto G6 when closed. When open it reminds me of a Star Trek TOS communicator. Most of the weight is in the top half of the phone, so while open in the hand it's unbalanced and easy to drop. Overall, I just wish I could have reactivated any of the other Tracfones I already have that are being phased out, like Samsung S336C, LG 440, or even LG 420. They seem to be much better and far easier to use, but again, at least I can answer a call now.
Date published: 2020-06-03
Rated

1

out of

5
by
Paulet
from
horrible
Phone arrived and was unable to be activated. Per instruction from Tracfone, shipped the LG Classic Flip back to Tracfone and they shipped a reconditioned Alcatel phone as a replacement that is listed as having a value of $5- wrong phone. MANY HOURS on the phone and no satisfactory solution. Completely unacceptable!!!!
Date published: 2020-11-24
Rated

4

out of

5
by
Anonymous
from
classic flip ph is right. it has everything i love
it has all sorts of made easy items that the last ph didnt. still cant find a qualified ph help person who speaks English that i can understand. like the options re down loading the photos. Wish the volume was louder and that it had speaker ph options. fits nicely in my hand and pocket dont have to worry about it falling out. would be nice if it had a display telling me how much service time i have left on the main screen. i really miss that option. it is easy to use once you find the right spot on the menu. and its a tough little phone.
Date published: 2020-08-22
Specifications
SIZE 4.25'' (H) x 2.17'' (W) x 0.7'' (D) inches
STANDBY TIME Standby Time up to 15 days
WEIGHT 4.48 oz. (ounces)
BAND (FREQUENCY) Technology: CDMA / LTE
INCLUDED BATTERY Battery Lithium-ion 1470m A h
HEARING AID T3
TALK TIME Talk time up to 6 Hrs
What's in the Box?
LG Classic Flip phone
Charger
Battery
Activation Card
Services Guide.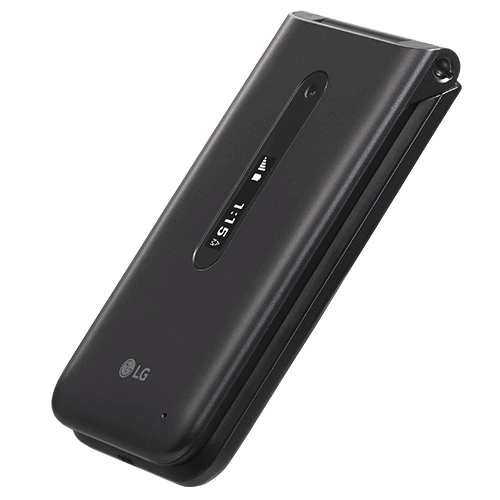 A Service Plan Required for Activation. Plans are not returnable or refundable.
WARNING: Cancer and Reproductive Harm - www.P65Warnings.ca.gov
TracFone Nationwide Prepaid Wireless:
No activation fees, contracts, monthly bills or credit checks.
Unlimited Carryover® of unused talk, text and data that never expires*
*service must be active and in use within each six month period
More features
RAM:
8GB ROM (up to 4.3GB usable)1GB RAM
CAMERA:
REAR CAMERA 2MP Fixed Focus Capture Resolution up to 1200 x 1600 pixels | Self-Timer choose to take a picture/video 3, 5, or 10 seconds after you press the shutter/record button
BATTERY:
Battery Capacity 1470mAh Li-Polymer
DISPLAY:
2.8'' QVGA Main Display (240 x 320) + 0.9'' Mono Sub Display (32 x 128)
We are sorry but this device is not available currently!
Please add your email and we will notify you when this device can be purchased: SUBMIT
*TETHERING TO ANOTHER DEVICE IS PROHIBITED. OTHER LIMITATIONS APPLY. Please refer to your terms and conditions.