Moto e6 (XT2005DL)
is rated out of
5
by
310
.
Choose from below
SPEED 4G LTE/Wi-Fi®
USAGE TIME Up to 12.8 days
DISPLAY 5.5'' HD+, 296 ppi, aspect ratio 18:9 (1440 x 720)
STORAGE 16GB 2GB RAM
CAMERA Rear camera 13 MP, f/2.0, 1/3.1'', PDAF. Front camera 5 MP, f/2.0, 1/5''
DIMENSIONS 149.7 x72.3 x 8.6 mm
Designed to impress. Built to create.
Meet moto e6. See more and scroll less on a 5.5'' Max Vision HD+ display. Go all day on a single charge. Enjoy lag-free performance while playing games and watching videos. Capture crystal clear photos, and boost the quality of your selfies. Plus, get more from your phone with the new Android Pie OS, and simply do more with Moto Experiences that make it easier to use. moto e6. For big fun, it's a small price to pay. Get more from your phone with a new OS that's smarter, faster, and adapts as you use it. Whether you're stopping for a drink or going for a run, a water-repellent design keeps your phone protected inside and out.

In the next step, you will have the option to bundle your Phone with one of our no-contract plans.
A Service Plan is Required for Activation. Plans are not returnable or refundable. Transfer Wizard app available to move stuff from your old phone to your new phone. Text MTXT2005DL to 611611 for mobile tutorials.
---
Rated

5

out of

5
by
Brad33
from
New to having a smartphone
When i retired I turned in my smartphone and got a simple flip phone from tracfone. It served me well for many years, but now is obsolete and due to stop working.I decided on the Moto e6 because it was inexpensive and had good reviews, it has not disappointed. The screen is clear and bright, is quick to respond. The sound is clear and will go as loud as anyone might need. The only down side for me is going from a flip phone to this is getting used to the size difference. But smaller phones seem to be a thing of the past. All in all this seems to be a very good phone. It is hard to think that phones costing 5 or 6 times as much could be 5 or 6 times better.
Date published: 2020-10-02
Rated

5

out of

5
by
NinME
from
Enjoying my new Moto e6
I've only had this phone a week. It is my first smart phone and in gerneral I need technology that is easy to use/figure out. I've been very pleased with this phone so far, have been able to figure it out, and am delighted with its features. Hated to give up my 2G flip phone - it was the best!!! But it no longer got texts longer than 160 characters and didn't get group texts, which became a problem. (so you can see where my level of technology know-how was). So far I think the the Moto e6 is great - just wish it was the size of my tiny flip phone and folded over to protect the screen - but I could be waiting a long time for that!
Date published: 2020-10-05
Rated

3

out of

5
by
bob100
from
Moto e6 great.....Tracfone less so
I am very pleased with the Moto e6. Very good phone for the price and works as advertised. However, I am disappointed with Tracfone's lack of transparency on two items. First, the Transfer Wizard would not work with my old phone with no suggested solution other than manual input. There is much hype about this capability, but no warning that it may not work. Second, after researching the features of the Moto e6, it was determined the phone supported internet/Wifi calling. After purchasing the phone and being unable to initiate the feature, I was told it was not available in my zip code. This information should have been available before purchase.
Date published: 2020-10-05
Rated

5

out of

5
by
Carl111
from
Very positive experience
I've had my phone 2.5 months and it has exceeded my expectations after switching from an employer-provided high-end Android phone. CPU performance is fine, i.e., I never observe any lag or slowdowns. I like that it has a replaceable battery, but I currently get 2 days on a charge and have not noticed any degradation. I added a 64 GB SD card, so no memory restrictions so far. In addition to texts and calls, I use the phone a lot for email, listening to podcasts, streaming radio stations, Garmin Connect for biking, and web access over Wi-Fi. I currently have 19 tabs open in Chrome with no issues. I have not rebooted my phone for weeks. I am happy with the picture quality of the camera. The case that came with the phone feels nice and fits the phone perfectly. The only issue I encountered was that "Smart lock" no longer recognized my home as a trusted place; however, after "editing" the location (no changes were actually made), the feature works again, so this is likely an Android issue, not a device issue. I know this is a "budget" phone, but honestly, I don't feel like I made any sacrifices and am very happy with the device.
Date published: 2020-07-12
Rated

5

out of

5
by
bigdan505
from
Better Then Expected, Moto's Back!!!
I bought this phone from TracFone's website on 09/02/20 and received it on 09/04/20, very fast shipping I must say. The phone is packed with features and runs very smoothly, even better then I had expected for the $39 price range. This phone handles any task I throw at it and then some. If you're looking for an upgrade that won't break the bank, look no further...
Date published: 2020-09-17
Rated

5

out of

5
by
Captain1
from
Nice phone, just the right size
I had to replace my flip phone after many years of good service. Easy to use small compact, so you can imagine my hesitation in purchasing a much larger phone. But this phone is just about the right size, given the fact that it has to be in your pocket along with keys to your car that don't have a spot in the car anymore. How much more can we put in our pockets? Easy to use, clear graphics, numerous icons. For me it was the best of the choices.
Date published: 2020-09-20
Rated

5

out of

5
by
John73
from
Great phone for the price.
Does everything I could want and more. Was able to add a 32gb microsd card, and, has the ability to format so the phone thinks it's part of the internal memory.
Date published: 2020-04-06
Rated

2

out of

5
by
Anonymous
from
More disappointed than happy
I ordered the e6 hoping it would be a nice phone compared to mu old phone, it isn't terrible but I use the camera a lot and the camera on this phone is garbage. It will not take a clear picture of anything unless you are several feet away from the subject and I have tried for hours taking pictures with different settings, etc. I even downloaded a different camera app but I think the trouble is the lens itself. I will never buy another motorola since every one I have tried has been a let down, I thought I would give this one a try but got burned. It also seems to want to reboot quite often. If anyone can suggest a phone with a great camera to me that isn't too expensive I would love to know.
Date published: 2021-01-03
Specifications
SIZE 149.7 x72.3 x 8.6 mm
STANDBY TIME Up to 12.8 days
WEIGHT 159 grams
BAND (FREQUENCY) 4G LTE Network
INCLUDED BATTERY Removable Battery Lithium-ion 3000 mAh
HEARING AID M3/T3
TALK TIME Up to 24.3 hours
What's in the Box?
Includes Charger
Battery
Activation Card
Services Guide and Quick Start Guide.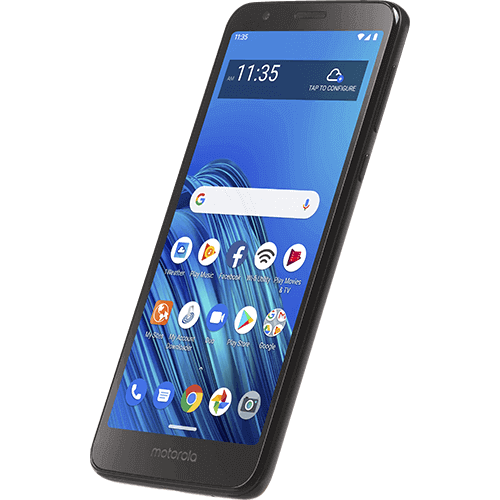 A Service Plan is Required for Activation. Plans are not returnable or refundable. Transfer Wizard app available to move stuff from your old phone to your new phone. Text MTXT2005DL to 611611 for mobile tutorials.
WARNING: Cancer and Reproductive Harm - www.P65Warnings.ca.gov
TracFone Nationwide Prepaid Wireless:
No activation fees, contracts, monthly bills or credit checks.
Unlimited Carryover® of unused talk, text and data that never expires*
*service must be active and in use within each six month period
More features
RAM:
16GB 2GB RAM - Supports up to 256GB microSD card
CAMERA:
13MP PDAF rear camera with 1.12um pixels, f/2.0 and LED flash. 5MP front camera with 1.12um pixels, f/2.0 and screen flash
BATTERY:
All-day 3000 mAh battery. Work and play all day on single charge.
DISPLAY:
Max Vision HD+ display 5.5'' HD+ display with an 18:9 aspect ratio.
We are sorry but this device is not available currently!
Please add your email and we will notify you when this device can be purchased: SUBMIT
*TETHERING TO ANOTHER DEVICE IS PROHIBITED. OTHER LIMITATIONS APPLY. Please refer to your terms and conditions.