Save $130! Get Yours Today!
Samsung Galaxy A51 (S515DL)
Samsung Galaxy A51 (S515DL)
is rated out of
5
by
142
.
Choose from below
SPEED 802.11 a/b/g/n, 2.4 GHz, Bluetooth v5.0
USAGE TIME up to 25 hours
DISPLAY 6.5'' FHD+ Super AMOLED 1080 x 2400
STORAGE 4GB RAM - 128GB Storage
CAMERA Main Camera 48MP - Front Camera 32MP Selfie camera - 12MP Ultra Wide camera
DIMENSIONS 6.24'' x 2.89'' x 0.31'' inches
Introducing the new A51 Series.
Experience the features you've been waiting for with the Samsung Galaxy A51. Take crisp pics and flawlessly smooth video with the 48MP quad camera, equipped with Super Steady OIS Mode. Immerse yourself in a spacious 6.5'' Super AMOLED screen, powered by a long-lasting, fast charging battery.

In the next step, you will have the option to bundle your Phone with one of our no-contract plans.
A Service Plan card is required for activation. Plans are not returnable or refundable. Service Plan card is required for activation. Text SAS515DL to 611611 for mobile tutorials.
---
Rated

5

out of

5
by
Anonymous
from
Easy Setup, even for phone-haters like me
If you are over 60, like me, and would really be OK if all smartphones were sucked into a vortex, but realize you have to suck it up and use one sometimes, you will be happy with this phone. Why? Because it's easy to setup and Tracfone has reasonably priced plans for people who don't spend most their lives staring at a screen or thumbing messages to the universe; but might use it to look at maps, text to pickup groceries, or call a tow truck if a tire goes. I will add that it is pretty and seems to do all the things most people think are super-important, like taking self-portraits to prove they are at Disneyland, or pictures of what they cooked for lunch, or Bowser, being cute.
Date published: 2021-02-20
Rated

5

out of

5
by
rafael6867
from
Love the Samsung Galaxy A51!!
I ordered the Samsung Galaxy A51 from Tracfone recently and what is not to love? I love everything about it!! It's a much faster phone than the one it replaced...a Samsung Galaxy A20. The cameras on the Samsung Galaxy A51 are better, the battery lasts a long time on a charge and overall, I am very pleased with this phone and I am very glad I purchased it on a great sale from Tracfone. It is a very popular phone as it always seems to be out of stock! Just be patient as I was and keep checking back until it is back in stock. It's what I did and have no regrets in getting this phone!!
Date published: 2021-03-28
Rated

5

out of

5
by
Liltruker
from
Works great
I got this phone a month ago. Once I had it set up real easy to use. The picture quality is awesome!! Went from LG to A51 and no comparison. I should never run outta space but if do add SD card and never buy a phone again.
Date published: 2021-05-10
Rated

3

out of

5
by
Jo M
from
Decent phone. Problems getting it hooked up.
I got this phone from Tracfone so the trasfer would be seemless but it didn't turn out that way. After I got the phone I spent an hour on the phone trying to get it to be able to make phone calls. A few days later I spent more than 1/2 again with tech support to get the data working. I thought that buying directly from Tracfone would make the process smoother, I was disappointed. The phone itself works ok for the price. It doesn't get great reception. My old phone, same network, had better reception. The speed is ok for basic stuff and the battery life is decent. Plently of storage space with optional micro sd card. I haven't had a chance to use the camera much but it seems good. It seems to be a pretty good phone if you get a good price but there may be issues with getting it set up.
Date published: 2021-02-27
Rated

3

out of

5
by
Jane Doe
from
Not satisfied with this phone
Not Satisfied. The initial set up for this phone was simple and great. I liked all the upgraded features on this phone. The battery lasted a long time on one charge. The major downfall with this particular phone was the internet connection. The wifi connection kept dropping in my house. I could not get an internet connection away from home even though I had the mobile data on. I am disappointed because I like all the other features on this phone. The screen size was 6.5 which was larger than most cell phones at that price. I plan on returning this phone because of the fact I can't get a good internet connection. The problem may be in the sim card. I'm not sure at this point.
Date published: 2021-03-13
Rated

4

out of

5
by
Brenda P 1
from
Great but......
Phone is great. Takes great pictures. Only have had the phone since 4/28/2021, today is 5/8/2021. I've had some problems. Dropped calls in the building I work in. Worked the first few days, but now, keep getting dropped calls. Also, I've gotten the blue screen downloading do not turn off screen several times, also have gotten the Blue OS screen, unsure why this keeps happening. May have to contact Tracfone or Samsung, if I can't figure out why it is happening. Also, volume for listening to voicemail is low, even when it is turned up, have to have the speaker on, not good if you want privacy.
Date published: 2021-05-08
Rated

5

out of

5
by
Jeff Allender
from
Excellent features, outstanding tech support
This model solves problems I had with previous models where updates to apps ate up memory. I give a HUGE thank-you shout out to Tracfone tech support, which has excellent automated advice, but mobile data still didn't work after I checked the FAQs and hours on the internet (which didn't tell me anything useful that I didn't learn from Tracfone). It seems that the new model and its OS update didn't yet work well with the service provider, and the direct "human" support answered with virtually zero wait time and spent a long time waiting through multiple reboots, and with several consultations finally solving the problem. I'm sure this will make it easier for the next person who have the same phone/service problem with this brand-new model phone. It's been a long time since I received such care and patience from a tech support line, and the people actually listened to what the customer was saying.
Date published: 2021-02-21
Rated

5

out of

5
by
John 3 16
from
First Tracfone that updates
I hope it's the last phone I ever have, but the way phones update android every three years or whatever, they've got you by the #@!!'s to keep buying more phones. Back in the day, you bought a land line, hung it on the wall and it lasted the rest of your life.
Date published: 2021-03-10
Specifications
SIZE 6.24'' x 2.89'' x 0.31'' inches
STANDBY TIME Standby time up to 13 days
WEIGHT 6.06 (ounces)
BAND (FREQUENCY) GSM | 4G LTE
INCLUDED BATTERY Non-removable Li-Po 4000 mAh battery
HEARING AID M3/T3
TALK TIME up to 25 hours
What's in the Box?
Includes Samsung A51 Phone
Charger
Battery
Activation Card
Services Guide and Quick Start Guide.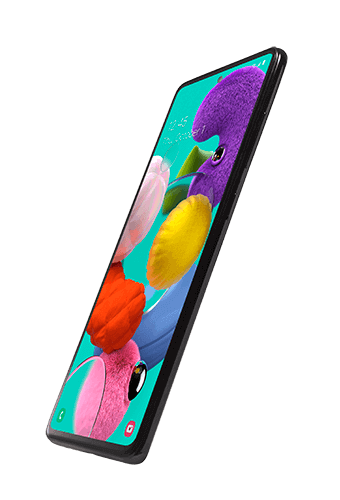 A Service Plan card is required for activation. Plans are not returnable or refundable. Service Plan card is required for activation. Text SAS515DL to 611611 for mobile tutorials.
WARNING: Reproductive Harm - www.P65Warnings.ca.gov
TracFone Nationwide Prepaid Wireless:
No activation fees, contracts, monthly bills or credit checks.
Unlimited Carryover® of unused talk, text and data that never expires*
*service must be active and in use within each six month period
More features
Power to keep you going:
Scroll, snap and share with a fast charging battery that retains power throughout the day.
Pro-grade shots in just a snap:
Capture pro-level photos with the tap of a finger. From epic landscape shots and dramatic portraits, to macro angles that reveal intricate textures and detail, this impressive quad camera has a lens for whatever inspires you.
Crisp. Colorful. Captivating:
A camera for any occasion - Capture imaDive into edge-to-edge color with an expansive 6.5'' Infinity-O Display featuring a Super AMOLED screen that brings cinematic clarity right to your fingertips.ges in their entirety, shoot vibrant low-light photos, and take flattering selfies.
Smooth, stable shots:
Take remarkably smooth video of fast-moving action in crisp, UHD quality. Its top-notch stability makes photos and videos look super smooth with minimal blur.
We are sorry but this device is not available currently!
Please add your email and we will notify you when this device can be purchased: SUBMIT
*TETHERING TO ANOTHER DEVICE IS PROHIBITED. OTHER LIMITATIONS APPLY. Please refer to your terms and conditions.