SAVE $20! Plan purchase required.
ZTE ZFIVE® C LTE (Z558VL)
ZTE ZFIVE® C LTE (Z558VL)
is rated out of
5
by
55
.
Choose from below
SPEED 4G LTE/Wi-Fi®
USAGE TIME Talk time up to 10 Hrs
DISPLAY 5.0'' HD Display
STORAGE Internal Memory up to 16 GB (device only)
CAMERA 5 MP Camera
DIMENSIONS 5.73 (H) x 2.83 (W) x 0.37 (D) inches
Create Your Own Path.
The ZTE ZFIVE® C LTE is a sleek smartphone with tons of storage for photos, games, apps, and more. It comes with 16GB of storage, which is a lot on its own. But when you add an optional microSD card, you get up to 32GB total. With so much room to keep you entertained and connected, the ZFIVE® is perfect for all your needs. Plus, this phone is easy to use, thanks to the Android™ 7.1 Nougat operating system and 4G LTE wireless and Bluetooth connectivity. To convert an existing ZTE ZFIVE® C LTE cell phone to a Tracfone phone, you'll need a SIM card and a data plan. For more information, visit our BYOP (Bring Your Own Phone) Help Center.
In the next step, you will have the option to bundle your Phone with one of our no-contract plans.
A Service Plan card is required for activation. Plans are not returnable or refundable. Text ZEZ558VL to 611611 for mobile tutorials.
---
Rated

3

out of

5
by
Bonzai37
from
You get what you pay for. Lower your expectations.
I use cheap phones like this one when I'm somewhere or doing something that puts my good phone at risk. It's a basic text / call phone. If you're expecting an amazing camera or two, amazing screen, amazing long battery life, amazing speed and connectivity, then you need to come up with some amazing cash because you don't get any of that at this price point. Get realistic. If you need a phone that will text and call pretty much whenever you need to and won't buckle your knees when you drop it and shatter the screen etc., then this is for you. $9.99? Come on. Can't beat that. (Most of the time).
Date published: 2019-12-04
Rated

5

out of

5
by
Sea Breeze
from
Good Phone, Great Deal!
I bought this phone 5 months ago, works great! Liked it so much bought a second one. Installed 64GB cards, and store all my music on them. Comes with 16GB internal memory, total 80GB. One is just to leave in the car for music. Bluetooth connects immediately, thru a wall to a BOSE player 40 feet away. Google Assistant works as expected. Internet connects easily. It feels very light & plastic ... soo..., Bought 2 heavy, tanks of a case (Circlemalls [Combo Holster] Phone Case Cover) for $9.00 ea. Outfitted it with a tracfone card with a years service and I am off to the races. Admittedly, I do not converse very often on these phones. Prefer computer screens for surfing and wired phones for conversation. However when ever I travel they work great for me.
Date published: 2019-11-14
Rated

5

out of

5
by
Jill in New Hampshire
from
Lightweight and easy to use
I bought this phone to try out Tracfones service. I am very happy with this phone. It is easy to use and learn to navigate.(I have never had an Android, always Apple phones). I have downloaded several apps and it has been a very easy process. The phone easily picks up wifi available around me. The battery life is good. It does not feel like a cheap phone to me. The camera is not as good as my iPhone, but if you want a smartphone, I really recommend giving this phone a try. I am very happy with this phone.
Date published: 2020-01-08
Rated

1

out of

5
by
Linda Kuczwanski
from
It doesn't work as well as a flip phone
It is very slow to turn on or do anything it is supposed to do. It doesn't stay charged for a whole day. It's apps use all the available memory and will fail within a week because it has so little memory that even the updates to the useless apps that you cannot delete will use up the memory. They gave it to me free after I lost my flip phone and that's about what it is worth. It'll only be good for phone calls, like my old flip phone, but won't hold a charge as long. Tracfone claims that they won't be supporting the flipfone much longer so I'm looking for a new phone company.
Date published: 2018-11-26
Rated

3

out of

5
by
snake633
from
Still Learning
Phone seems to work fine, features are very hard to figure out-small sensitive touch screen makes it easy to make mistakes. No real easy to understand instructions come with phone and half the time have no idea how I got to the screen I'm in and includes no instructions on how to turn apps on or off!!! Have got lucky and not drained data as again no real instructions on how to actually operate the phone!!! How do I turn my weather on again so it is at top of phone??? How do you delete emails or calls as I do not want them all listed unless I want to remember something and see no reason for them to always be present!! Biggest thing is this phone has terrible battery life-needs charged at least once everyday!!!!!! Charged early this am and by 3:30pm down to 45% charge!!!!!!
Date published: 2018-05-24
Rated

1

out of

5
by
hotpepper
from
Major software issue
I bought this phone about a week ago. It worked fine for a basic phone as a back up in case my primary phone got some problems. Unfortunately, it went nuts since yesterday as it was constantly going through "Tracfone updates" six times, each took a long long time. I turned off the phone last night. As soon as I turn it on this morning, here we go again, Tracfone updates 5 times so far. I contacted tracfone customer support to help, all they can do is asked me to perform factory reset. I think this phone has some serious software issues so it just got updated over and over again. It is crazy.
Date published: 2020-02-09
Rated

5

out of

5
by
DrERW
from
Great Phone
This phone works really well. It has 16gb onboard memory and can hold a lot of apps even without an sd card. I have 72 apps on mine and there's room for more. I'm still learning all its features. The Android 7.1 is a great operating system. I don't have to uninstall apps to upgrade existing ones or add new ones.
Date published: 2018-06-05
Rated

4

out of

5
by
EleanorM
from
Great Bargain Phone
I purchased this phone to replace my husband's basic cell with a smartphone. He's 88 years old and sometimes wanders around the neighborhood, so I needed a means to track him down. Since he really only needs to be able to make and receive calls, I chose this phone for its bargain price, so I wasn't expecting much. When I received this phone and opened the box I was pleasantly surprised by the quality of the phone. The screen is sharp enough, it works well and the call quality is very good. It came with plenty of useful apps and still has enough room to add many more. This phone, coupled with one of Tracfone's great plans, was a great value for the price. It far exceeded my expectations, so I gave it four stars.
Date published: 2020-02-19
Specifications
SIZE 5.73 (H) x 2.83 (W) x 0.37 (D) inches
STANDBY TIME Standby time up to 6 days
WEIGHT 5.43 ounces (With Battery)
BAND (FREQUENCY) Technology: CDMA/LTE
INCLUDED BATTERY Battery capacity 2,200 mAh (Removable)
HEARING AID M4/T4
TALK TIME Talk time up to 10 Hrs
What's in the Box?
Includes Charger
Battery
Activation Card
Services Guide and Quick Start Guide.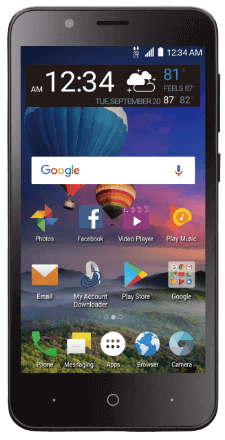 A Service Plan card is required for activation. Plans are not returnable or refundable. Text ZEZ558VL to 611611 for mobile tutorials.
WARNING: Cancer and Reproductive Harm - www.P65Warnings.ca.gov
Tracfone Nationwide Prepaid Wireless:
No activation fees, contracts, monthly bills or credit checks.
Unlimited Carryover® of unused talk, text and data will not expire***
More features
Android™ 7.1 Nougat OS:
This operating system helps keep the phone running fast and smooth. It also offers reliable battery life and a smart notification system that makes it easy to stay on top of your messages.
16GB ROM/2GB RAM storage:
In addition to internal memory, this phone supports a microSD memory card. In total, you can achieve up to 256GB of storage space.
5MP rear camera:
Take great pictures of the world around you. The camera comes with flash to help brighten photos taken at night or in low-light conditions. When you want to take selfies, simply switch around to the 2MP front camera.
2,200 mAh battery:
You need your phone available all day long, which is why the ZTE ZFIVE® C LTE offers long-lasting battery life of up to 10 hours.
5-inch 480x854 display:
The large 5'' display makes it easy to navigate the screen and view your go-to apps.
We are sorry but this device is not available currently!
Please add your email and we will notify you when this device can be purchased: SUBMIT
*TETHERING TO ANOTHER DEVICE IS PROHIBITED. OTHER LIMITATIONS APPLY. Please refer to your terms and conditions.