LG Rebel 4 (LML212VL)
is rated out of
5
by
384
.
Choose from below
SPEED 4G LTE Network
USAGE TIME Talk time up to 16 Hrs
DISPLAY 5.0'' HD TFT (IPS) 1280 x 720 Display
STORAGE Internal Memory: ROM: 16GB - RAM: 2GB
CAMERA Rear: 8MP Autofocus / Front: 5MP Fixed Focus
DIMENSIONS 5.70'' (H) x 2.83'' (W) x 0.31'' (D) inches
Dare to be Exceptional.
Make the LG Rebel 4 your next upgrade. This prepaid smartphone has everything you need, and nothing you don't. The LG Rebel 4 offers an impressive 16 hours of talk time, plus 16GB of storage with more room to expand! And if you need a phone that's sleek, fast, and powerful to keep up, don't worry. The LG Rebel 4 has a powerful quad-core processor and works on America's most reliable lightning-fast 4G LTE networks. For added convenience, the LG Rebel 4 is also hotspot compatible, allowing you to share your Internet connection at home or on the go. All you have to do is purchase a hotspot to get started.

In the next step, you will have the option to bundle your Phone with one of our no-contract plans.
A Service Plan card is required for activation. Plans are not returnable or refundable. Text LML212VL to 611611 for mobile tutorials.
---
Rated

5

out of

5
by
dontwantafonsmarterthanme
from
Easy to use phone
This phone arrived a week ago and I am completely comfortable with it. Set up was easy, transfering from an old phone seamless. It is a smart phone but doesn't have a lot of junk in I was able to customize the apps to have just what I want, and unlike my husband's Samsung, it doesn't keep pushing junk at me. I still need to find a good ad blocker, but the ads I am getting are not too bad, just more than I was used to. Seems to do everything I can think of to do with it. Using my google account loaded everything I depend on almost instantly. And this phone is only a year old so I should get many years of use from it. A great deal all around!
Date published: 2019-11-08
Rated

5

out of

5
by
tomsters
from
Great phone!
This phone is excellent. I got it to replace an older Samsung J3 Luna pro. I think it's not only better than the Luna Pro, but also better than the J3 Orbit and the Samsung A10E. The camera on it is better than the one on all of these phones imo. The phone is fast, has current security updates (go to Settings/System/Update Center to get them), has Oreo 8.1 with an excellent user friendly implementation by LG, has a removable battery and good battery life. You can tap twice on the screen to wake/sleep it. The only thing I don't love it the location of the power button.. on the back of the phone.. but I don't care, the phone is great.
Date published: 2020-03-13
Rated

4

out of

5
by
Ann in Ohio
from
Good first smartphone
I bought this two weeks ago. It's my first smartphone, having been forced to get rid of my Kyocera 126c. The Rebel is easy to use with a few problems retrieving voicemail using the standard app. And, try as I might, mobile data just doesn't work. Which is sort of ok because I don't really need it but I am paying for it. I removed battery and SIM card, updated the Android software, checked all the settings time and time again. I see from the web that this is a common problem with Android phones. But otherwise I'm happy with it and I'm glad I chose this. I was pleased to be able to download the entire owners manual too! For the mobile data maybe it just needs another SIM card.
Date published: 2019-06-04
Rated

4

out of

5
by
Goldie42
from
Better than my old one
This is a nice phone-much better than my old one (which was running slow because it was getting old). I just wish the volume on calls and ringtones was higher (I am hard of hearing). It appears to me that you have to use data in order to check out your voice mail messages, but I have heard that if you contact Tracfone online support, they will turn it off for you and switch you to basic old voicemail. A word to those who buy this phone: You must download LG Bridge in order to get past the welcome screen. I have a desktop computer and a internet connection so downloading the program, hooking up the charged up phone to USB port and then putting the file on my computer was a piece of cake.
Date published: 2019-11-17
Rated

5

out of

5
by
BOBomally
from
This is great as I thought it was
I think this is like my old phone the original lg rebel. Maybe I'm jumping the gun a little, but I just activated the phone, and so far, so good. I bought this off Amazon for forty dollars. It was incredibly easy to activate - you just do it straight through the phone. I needed a cheap phone and pay-as-you go plan for my son, who is prone to breaking and/or losing things. I didn't want to get him an iPhone and put him on our plan just yet. When I activated the phone, I signed up for a Tracfone account and installed the Tracfone app onto the phone so I could see how many minutes & texts remain. I didn't have to buy any Airtime minutes - it came preloaded with 360 MB data, 360 minutes, 360 texts.
Date published: 2019-02-28
Rated

5

out of

5
by
Mucko
from
Journey from Rebel I to Rebel IV
About 10 days ago my cel phone reported it would no longer run my banking app. Android 5.1 was no longer supported. So I upgraded from Rebel 1 to a Rebel IV. I am now a happy camper. My banking app now works just fine on Android 8.1. The screen was 480p, now it is 720p, (4.5" -> 5.0"). The on screen keyboard is now working well. Everything runs much faster. (Faster CPU, faster RAM, twice the RAM and twice the ROM.) The WiFi seems a little faster. The only problem I have encountered is with synchronization. My contacts didn't update until a "network upgrade" was applied. And my text messages did not sync at all. My sole criticism is the lack of documentation and manuals. Especially for the apps. This one is a keeper.
Date published: 2019-05-17
Rated

5

out of

5
by
Waterfish22
from
A great phone to have and not a bad price!
I used to have an older lg rebel L44vl. It only allows you to instal 3 or 4 apps max. On the rebel 4 I was able to instal Facebook, instagram, Pinterest, plenty of fish, tracphone app, gmail, kik, google hamgouts, yahoo mail. I still could instal more apps and the phone doesn't run out of memory. That's a lot of apps for the basic user. I got the phone as a gift this Valentine day on sale too. I would be more then happy to pay more to get another one some time in the future! For under $100 it's pretty cool how they keep making better and better phones. I still have my old Nokia tracphone where you could only text there was no internet. If you want tons of apps pay for an iPhone but if you use most of the basic apps use this phone unless you just call people.
Date published: 2019-02-15
Rated

1

out of

5
by
AJShadow1
from
Complicated and hard to program
I bought one of these phones from Best Buy to replace my old LG Smartphone. Like many people have stated, these new phones are NOT for the novice. I was able to transfer my service to the new phone, however programing the phone was impossible for me. I'm not that technically inclined that I could not get the phone to the point where I could use it. Too complicated. I called Tracfone and asked them to switch my service back to my old phone, which they did. I returned the new phone back to Best Buy. My old phone was, take it out of the box, activate it and DONE. NOT THIS ONE!!! It also comes with auto program to download Google apps at their discretion - thus using your minutes. Bottom Line: Not for people who want a simple phone.
Date published: 2020-02-08
Specifications
SIZE 5.70'' (H) x 2.83'' (W) x 0.31'' (D) inches
STANDBY TIME Standby time up to 12 days
WEIGHT 4.95 oz.
BAND (FREQUENCY) Technology: CDMA, LTE
INCLUDED BATTERY Removable 2,500 mAh Lithium-Ion
HEARING AID M4/T3
TALK TIME Talk time up to 16 Hrs
What's in the Box?
Includes Charger
Battery
Activation Card
Services Guide and Quick Start Guide.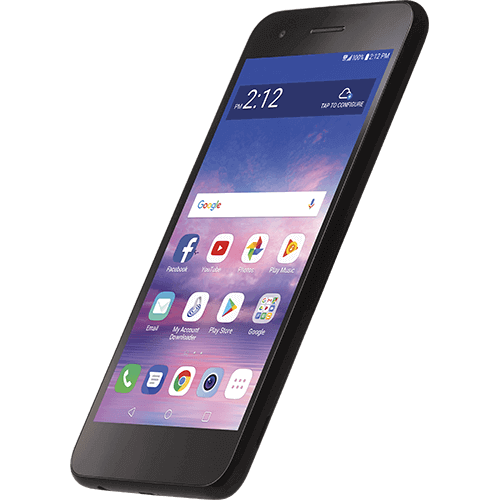 A Service Plan card is required for activation. Plans are not returnable or refundable. Text LML212VL to 611611 for mobile tutorials.
WARNING: Cancer and Reproductive Harm - www.P65Warnings.ca.gov
Tracfone Nationwide Prepaid Wireless:
No activation fees, contracts, monthly bills or credit checks.
Unlimited Carryover® of unused talk, text and data will not expire***
More features
Android™ 8.1.0 Oreo™ operating system:
Fast and easy to use, this OS can meet the demands of your busy lifestyle.
5-inch HD TFT (IPS) display:
The crystal-clear touchscreen offers bold, vivid colors and easy-to-read text.
16GB ROM/2GB RAM memory:
No matter how long you have the LG Rebel 4, you can always count on having enough storage. That's because it's expandable with microSD™ support.
8MP rear camera:
With features like Auto Focus and zero shutter lag, you'll be able to capture high-quality photos without missing a beat. Switch to the front-facing camera for selfie mode with just the tap of a finger.
4G LTE network:
Qualcomm wireless technology and fast network speeds give you hours of streaming, and even more hours of app usage. From catching up on your latest Netflix binge to calling and texting friends, the LG Rebel 4 has you covered.
We are sorry but this device is not available currently!
Please add your email and we will notify you when this device can be purchased: SUBMIT
*TETHERING TO ANOTHER DEVICE IS PROHIBITED. OTHER LIMITATIONS APPLY. Please refer to your terms and conditions.