Alcatel TCL LX (A502DL)
is rated out of
5
by
98
.
Choose from below
SPEED 4G LTE/Wi-Fi®
USAGE TIME Talk time up to 20 Hrs
DISPLAY 5.43'' HD FWVGA+ 18:9 Display
STORAGE Internal Memory 2GB / 16 ROM
CAMERA 8MP rear camera with LED flash
DIMENSIONS 5.83'' (H) x 2.74'' (W) x 0.37'' (D) inches
TCL LX - Sleek Design.
The TCL LX is an affordable smartphone that won't break the bank. Better yet, it's packed with all the cool specs you need. For starters, it comes with a powerful 8MP camera that lets you take gorgeous photos. The TCL LX also has lightning-fast 4G LTE/Wi-Fi for work, streaming, or browsing. And with reliable Bluetooth connectivity, it's easy to pair your phone with other devices. Have the TCL LX, but aren't sure how to unlock it or how to bypass the FRP lock? Visit our FAQ page for step-by-step instructions and information on SIM cards, prepaid plans, and more.
In the next step, you will have the option to bundle your Phone with one of our no-contract plans.
A Service Plan Required for Activation. Plans are not returnable or refundable.
---
Rated

4

out of

5
by
Woodsman402
from
A solid phone so far!
I have had this phone for only two weeks, so I will not give it five stars, but so far it has worked extremely well: no crashes and the battery, using it regularly, lasts all day. Understand, I am not a power user, but I am sure this phone is great for your average user. Three bonus items: First, the camera, which is actually decent, has an auto focus. Second, this phone uses the GSM networks, and works in places like Hamburg, IA. Third, if you place the battery in super saving mode, you can use it for at least two to three days. This said, make sure to buy a tempered glass screen protector; the screen itself seems brittle.
Date published: 2018-11-13
Rated

1

out of

5
by
StevenCee
from
Terrible Phone...
Bought it just weeks ago, and have been able to make all of one call, & receive one call. Other than that, calls can't be made, and even trying to hang up doesn't work, the screen sticks on "hanging up". And the volume on the calls is too low. One time I called someone, I heard no ringing & as usual it just stuck on "calling", meanwhile, my friend heard it ring once, then stop, and the caller ID showed my number as being some other number altogether. Plus the battery could barely last 24 hours, even with no calls, many apps uninstalled or not on, and the battery saver function on! Probably the worst phone I've ever bought...
Date published: 2019-06-13
Rated

3

out of

5
by
AverageJohn
from
decent cheap phone option.
Pros: -Low cost -Does everything a smart phone should/needs to -good video quality -durable (its lived up to normal abuse, though the screen cracked it still works normally) Cons: -Brittle screen (once the screen breaks more bits keep flaking off, especially around the front speaker) -limited memory and expansion capabilities -limited RAM (running some apps can cause it to slow down quite a bit) -poor touchscreen accuracy and response (unlocking it can be a issue as it doesn't always get the position correct, I've also had it respond to water and any soft materiel with a low electric current like a headphone cable)
Date published: 2020-06-17
Rated

4

out of

5
by
NanEB
from
Everything I need in a phone, but brittle screen
Have had this one since Christmas as a replacement for the same phone which has a badly cracked screen. I love it, except the screen is brittle. Otherwise it would have 5 stars. I have a glove and screen protector and not an issue since. The ease of the screen cracking, (and actually having holes), is my only complaint. I still have the cracked one. It still works for internet and messages, (I have it bedside for an alarm clock). I can not talk on it or make phone calls, thus the need for a replacement. If you purchase this phone be sure to get the glove & the screen protector.
Date published: 2019-03-19
Rated

5

out of

5
by
fonze
from
great phone
i received this phone in august of 2018 i have had problems as anyone knows electronics are all pain in butt it does sometimes freeze up if left in direct sunlight for long enough it will need to be turned off and let cool i have a tough case and screen protector i got on ebay for less than 20.00 for everything it was well worth it good phone on the cheap and has lasted longer the my girlfriends expensive phones and the cam is nice when filming my son and daughter when they graduated both army and navy boot camp and ozzys last concert in syracuse ny great videos came out
Date published: 2019-09-24
Rated

3

out of

5
by
NewtoTracPhoneGuy
from
For the price you cant go wrong
I bought my daughter and I each one of these. I mean for $40 a piece you cant be expecting a Iphone 10 or whatever. The camera isnt the best but it works. It does freeze up a little bit from time to time but be patient. The only issue I really have is where the power button is located on the right hand side. I am a righty and hold it in that hand. I hit the power button all the time accidently and it puts the screen in sleep mode. Kind of a pain in the butt if you ask me. It is a $40 smart phone it is well worth the money
Date published: 2019-03-02
Rated

5

out of

5
by
Darylb
from
Awesome phone for the money!
I do not understand all the negative reviews on this phone. I have an iPhone and tried this out for a family member looking for a smartphone. I am amazed. The phone works perfectly. It is refurbished, but came in LIKE NEW condition. The phone is a perfect size. Fits well in my hand and yet is small enough to slip into my pocket. The screen is large enough to enjoy videos and the sound and screen are great! What is not to like? Love it!
Date published: 2019-10-22
Rated

1

out of

5
by
loyal Tracfoner
from
Nice features, but troubles with calls and texts
I bought two of these phones back in December. They worked fine initially with nice speed, plenty of storage, large screens. However, both my wife and daughter noticed that from time to time they could not send a text or make a call successfully without restarting the phone, which can be really frustrating. I have been a Tracfone customer for more than a decade and used more than a dozen phones. This model is the first one we have had this kind of problem.
Date published: 2019-05-15
Specifications
SIZE 5.83'' (H) x 2.74'' (W) x 0.37'' (D) inches
STANDBY TIME Standby time up to 17 days
WEIGHT 5.29 (ounces)
BAND (FREQUENCY) Technology: CDMA/GSM/LTE
INCLUDED BATTERY Battery 2460mAh Lithium-Ion
HEARING AID M4/T4
TALK TIME Talk time up to 20 Hrs
What's in the Box?
Includes Charger
Battery
Activation Card
Services Guide and Quick Start Guide.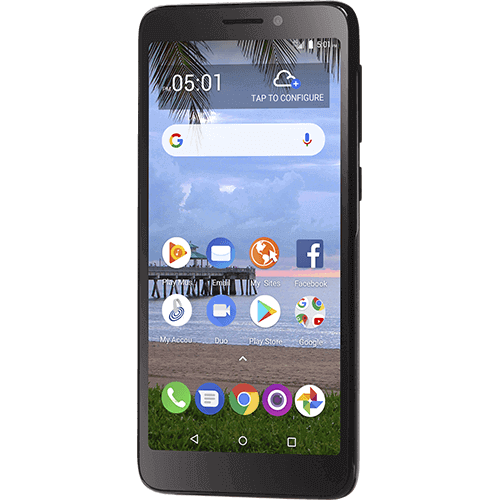 A Service Plan Required for Activation. Plans are not returnable or refundable.
WARNING: Cancer and Reproductive Harm - www.P65Warnings.ca.gov
Tracfone Nationwide Prepaid Wireless:
No activation fees, contracts, monthly bills or credit checks.
Unlimited Carryover® of unused talk, text and data will not expire***
More features
Android™ 8.1 Oreo™ operating system:
This OS makes sure your smartphone is fast and powerful enough to keep up with your busy lifestyle.
16GB storage:
Save all the photos, videos, and files you want on the Alcatel TCL LX. Not only does it offer 16GB of internal storage, but it's also compatible with an optional 32GB microSD™ card.
8MP rear camera with flash:
Want a phone that can take high-quality photos? The Alcatel TCL LX's 8MP camera comes with a full suite of photography and editing functions to enhance every snapshot. Some features include Panorama, Time Lapse, HDR, Night Mode, and Instant Collage.
2460 mAh battery:
Stay connected all day and night with this 2460 mAh battery. With just a single charge, it can keep your phone powered for up to 15 hours of talk time.
5.4-inch DragonTrail glass display:
The sleek, spacious screen makes watching videos and texting friends even better. The glass is specially made for durability, so you can feel confident about putting the phone inside your pocket or purse.
We are sorry but this device is not available currently!
Please add your email and we will notify you when this device can be purchased: SUBMIT
*TETHERING TO ANOTHER DEVICE IS PROHIBITED. OTHER LIMITATIONS APPLY. Please refer to your terms and conditions.