BLU® VIEW 1 (B100DL)
is rated out of
5
by
42
.
Choose from below
SPEED LTE/Wi-Fi 802.11 b/g/n, Wi-Fi Direct, hotspot
USAGE TIME Up to 13.3 hrs
DISPLAY 5.5'' Display - 480 x 960 Resolution
STORAGE 2GB RAM - 16GB ROM
CAMERA Primary Camera is 5MP and secondary Camera 2MP
DIMENSIONS 5.6'' (H) x 2.8'' (W) x 0.4'' (D) inches
Introducing the BLU View 1, filled with amazing features such as 16GB internal memory paired with 2GB RAM, Android 9.0 Pie OS, battery friendly Quad-Core processor, and much more.

In the next step, you will have the option to bundle your Phone with one of our no-contract plans.
A Service Plan card is required for activation. Plans are not returnable or refundable. Service Plan card is required for activation. Text B100DL to 611611 for mobile tutorials.
---
Rated

3

out of

5
by
JackabeeMomma
from
Get what you pay for
Like with anything, you get what you pay for. I needed a phone quickly when mine crashed and this was all I could fine since Dollar General is our "Wal-Mart" in my small town. This phone gets good signal. I haven't had a lot of problems finding signal. My only complaint about the phone is that the camera isn't the greatest. Poor picture quality. Also very disappointing that I have not been able to find a screen protector and case for it. I have checked ebay, Amazon, and just a general search on Google and nothing. I honestly wouldn't recommend this phone for that reason alone. But for the price its not a complete waste of money
Date published: 2020-01-25
Rated

1

out of

5
by
Flubadub1
from
NoNoNoNoNo
Horrible. I was looking for a larger phone than the Samsung I had. Yup.... but that's the only good thing I can say about it. It will NOT take a photo of a check for banking, the picture that should come up from a caller is so small you need a magnifying glass, it took Tracphone THREE hours to get the phone # from the Samsung to the Blu and they never could transfer my contacts or photos, there is no sound when I get a text and it doesnt ring or vibrate when there's an incoming call. I could go on, but... The Blu was a waste of money because I'm going back to Samsung.
Date published: 2020-06-16
Rated

3

out of

5
by
SpruceGoose
from
Not bad... Not great
This is what you'd expect from a $40-50 phone. I came from a Moto G6 and the Blu is noticeably slower, while doing everything I need it to. If you can bump the budget up to $120 - $150 there are much more refined phones with better cameras and fingerprint readers and OLED. But this is a fully functional modern phone. Pros: - microSD slot ! - Headphone Jack! + FM radio - Runs Android 9 so it has decent features. -. Decently loud speaker / speakerphone - Good Call quality and wifi reception - Cost Cons: - Both cameras suck, look elsewhere if you are a big photographer - LCD screen, no OLED -Lowish battery life. Maybe 4 or 5 hours of active use. Maybe a few days on standby. (Note that the battery is user-replaceable.) -Somewhat sluggish feeling, slow cpu
Date published: 2020-02-28
Rated

5

out of

5
by
LOL783
from
Time limit only goes down when calling
Just got it Sptember 21 2019 and it is AWSOME love it
Date published: 2019-11-22
Rated

1

out of

5
by
teen97
from
Horrible phone
I needed new phone, was still casually looking. Rep came on to see if they could help. I said I wanted good picture quality and to remain under certain price. I was looking at a different phone from Tracfone. Was immediately directed to the high end of my range (price has since been reduced drastically). Overall quality is awful!! When I make calls, I can hear the person I'm calling, but they cannot hear me. Sometimes I have to redial 3 or 4 times before I can be heard. This is extremely embarrassing. Thus I use the phone very little; I can't even leave a message because I have no way of knowing whether the speaker worked. Photo quality is beyond terrible. Final kicker is that no one makes a protective case for this phone. Run away from this piece of trash as fast as possible. I would give it 0 stars if that was a choice.
Date published: 2020-07-12
Rated

5

out of

5
by
Clint Seeber
from
Low Cost, High Quality, American Made
I just bought this phone a couple of days ago at Dollar General for $29 plus tax. Look at the hardware and specs! They're great for the price! This is the first American made smartphone that I've ever bought. I am very happy with it. Please note that while the CPU bis 1.5ghz, it's actually 32-bit - not 64-bit. All of the other specs as listed on this page and others appears to be correct. Don't forget that it runs on Android 9.0!
Date published: 2020-05-21
Rated

1

out of

5
by
Doc25
from
Worst phone ever bought
We have used Tracfone for 20 years. We have had many cell phone during this time. This View 1 is the poorest we ever purchased. Many features are not available or do not function when turned on, as compared to previous smartphones.
Date published: 2019-12-16
Rated

3

out of

5
by
Zazam b
from
It works.
The phone works. By far not the best, they make fold over top cases for it but that's all. kinda lame, if you wanna use your phone you have to take it out of the case, put it back in when your done. If you text or use ur phone alot it just don't work that great. The phone seem slick. Iv dropped mine many of time and the scream has cracked many of times. (Not in case due to being a pain). Phone don't stay charged long, even on battery saver. Don't expect to go to sleep at night without plugging it in, and it be still charged in the morning. Less with mine. What hurts the phone tho the most is not getting a good case that will work for it. A case you can put on with a screen protector. I bought a new phone within 4 months we will see how it is. Not a good phone for younger kid or a adult that uses it heavily. Less with mine may have better luck with ur own. The phone seems to get pretty good service. And has a decent amount of storage. The phone is very reasonable priced too.
Date published: 2020-05-05
Specifications
SIZE 5.6'' (H) x 2.8'' (W) x 0.4'' (D) inches
STANDBY TIME Up to 20.8 days
WEIGHT 5.4 oz
BAND (FREQUENCY) CDMA/GSM/LTE
INCLUDED BATTERY Removable 2500mAh Lithium-ion battery
HEARING AID M3/T4
TALK TIME Up to 13.3 hrs
What's in the Box?
Includes Charger
Battery
Activation Card
Services Guide and Quick Start Guide.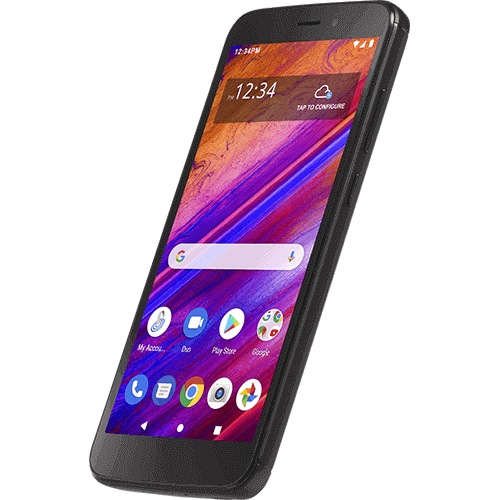 A Service Plan card is required for activation. Plans are not returnable or refundable. Service Plan card is required for activation. Text B100DL to 611611 for mobile tutorials.
WARNING: Cancer and Reproductive Harm - www.P65Warnings.ca.gov
Tracfone Nationwide Prepaid Wireless:
No activation fees, contracts, monthly bills or credit checks.
Unlimited Carryover® of unused talk, text and data will not expire***
More features
RAM:
16GB Internal Memory I 2GB RAM - MicroSD up to 64GB
CAMERA:
8MP Main + LED Flash - 5MP Selfie - 1080p Video Record
PROCESSOR:
Mediatek 6739 - 1.5GHz Quad-Core 64 Bit
DISPLAY:
5.5 inch FW+ 18:9 Display - 480 x 960 Resolution
We are sorry but this device is not available currently!
Please add your email and we will notify you when this device can be purchased: SUBMIT
*TETHERING TO ANOTHER DEVICE IS PROHIBITED. OTHER LIMITATIONS APPLY. Please refer to your terms and conditions.