iPhone 6s Plus Space Grey 32GB - RECONDITIONED
iPhone 6s Plus Space Grey 32GB - RECONDITIONED
is rated out of
5
by
91
.
Choose from below
SPEED 4G LTE/Wi-Fi®
USAGE TIME Up to 24 hours on 3G
DISPLAY 5.5'' Retina HD display
STORAGE Internal Memory: 32GB
CAMERA 12 MP iSight camera
DIMENSIONS 6.23'' (158.2 mm)(H) x 3.07'' (77.9 mm)(W) x 0.29'' (7.3 mm)(D)
The only thing that's changed is everything.
RECONDITIONED. Get to know the iPhone 6s Plus. It offers extremely long-lasting battery life to keep you connected at all times. With up to 24 hours of usage (on 3G), you'll never miss a moment. You can stream playlists, movies, and shows for hours without stopping and enjoy uninterrupted app time for even longer. Not only that, but the iPhone 6s Plus is engineered with a 7000 series aluminum unibody for a smooth, sleek appearance. Yet it doesn't just look the part. With advanced features like the powerful A9 chip and Touch ID, this phone offers the speed, security, and performance needed to get the job done.
In the next step, you will have the option to bundle your Phone with one of our no-contract plans.
A service Plan card is required for activation. Plans are not returnable or refundable.
Legal:
Data plan required. LTE Advanced and LTE are available in select markets and through select carriers. Speeds are based on theoretical through-put and vary based on site conditions and carrier. For details on LTE support, contact your carrier and see www.apple.com/iphone/LTE.
Battery life varies by use and configuration. See www.apple.com/batteries for more information.
Technical Specifications:
Go to www.apple.com/iphone-6s/specs/ for a complete set.
---
Rated

2

out of

5
by
Phonejunkie27
from
Be careful or reconditioned
On the surface this phone was great. Condition appeared to be better than new. However once turned on, I experienced poor reception and signal, and at times had no service. The problem from what I researched was a bad antenna. Repairing that would cost more than the phone was worth. Phone was returned for a refund. Just a warning to those of you who think that this is too good a deal..well it might just be or you might get a lemon. You play roulette with your money if you choose to purchase.
Date published: 2019-08-29
Rated

1

out of

5
by
ABSD
from
Bad news
Received the phone yesterday. Looks fine, so first I decided to make sure that it is charged. When turned on, the battery showed ~50% charge. For some reason there was no numeric indicator as on other phones, just a picture of a battery painted green halfway. Plugged in to charge. An hour later it showed the same 50% charge. My old other IPhones charge from nothing to ~100% within that time. Now the hassle begins sending it back etc. Incidentally, the salesman's claim that the battery will be new is bogus. Awful!
Date published: 2020-05-05
Rated

1

out of

5
by
Rizz
from
Gets really hot
I bought this phone 2 days ago and I can't use if for more than 5 minutes because it gets way too hot and I get a message on the screen. When I bought the phone, there was a sticker that said "Wait 5 hours before setting up the phone", so that's what I did. I didn touch it at all overnight. In the morning while I was setting it up, the phone got very hot and I got a warning message on the screen that told me to wait until the phone cools down. This happened every 5 minutes or even less. I talked with Josue and Bruce and they both didn't give me any suggestions and did not allow a replacement. The phone keeps connecting and disconnecting form my wifi by itself. I'm very unhappy with tracfone.
Date published: 2020-08-16
Rated

1

out of

5
by
John814
from
Phone Won't Power On
Like the other reviewer, I purchased this phone in November of 2019. April 2020 the phone wouldn't connect to wifi, got very hot, and the battery died all in the matter of 24 hours. The phone will no longer charge. I checked with Apple and they said the phone is not under warranty (I thought it would be covered for a year). I contacted Tracfone and they referred me to Apple and said Tracfone would not replace the phone. Now I have a dead phone and no recourse.
Date published: 2020-05-05
Rated

5

out of

5
by
Deanna M
from
Looks like a new phone
Love the phone it is refurbished but looks like a brand new one hold a long battery life. Glad I purchased this
Date published: 2019-08-23
Rated

1

out of

5
by
Val23
from
DOA.. Call Apple or pay to return the phone.
My 12 yo saved his money to buy an iPhone 6s Plus through TracFone site. Charged for 8 hours won't turn on. "Richmond" on Chat says "go to Apple store". The closest store is over 150 miles away. Called TracFone the signal was dropped. Called back spoke with Ariel "you need to troubleshoot with Apple". Nothing to troubleshoot it won't turn on. "You can return it but you need to pay for the shipping. I asked her if she was telling me that TracFone sent a broken phone now I have to pay to return it.... She hung up on me. Seriously now looking into Cricket Wireless.
Date published: 2020-07-04
Rated

5

out of

5
by
Steveoc
from
Great bargain
I recently stepped up from an iPhone SE because I ran out of storage. For now, this phone's 32 GB provide just enough space, but a bit more would be nice. This phone has the same processor as my old SE, but the processor was not a constraint on my former phone. Now that I have space to load "Complete Anatomy", I appear to have bumped into performance limitations. IDK whether it needs more RAM or processor power but the app seems a bit unresponsive. Gamers might want more horsepower. The increased screen size is a big improvement in user experience: It makes the keyboarding much easier , and the display is sharp & crisp. It is a substantial improvement in reading. The screen on the SE was atoo small for reading because the lines of text were so truncated. For anyone concerned about handling the bigger phone, iOS has it covered: reachability shifts items closer to the bottom of the screen when invoked. One can also nudge the keyboard to either the left or the right. Together, these features put items within thumb's reach. The 3D Touch & haptic feedback are nice to have. I especially like being able to access the app switcher with a hard press to the left edge of the screen. This is also the last model to include a plug for a headphone jack. I seem to get a 3G signal in locations that yielded LTE reception on my SE. My reconditioned phone appears new with no blemishes that I noticed. Everything functions properly. The battery health indicates 100%. The phone arrived in a recycled battery box. It came with OER charger & cable. There were neither SIM tool nor earbuds in the package. I use AirPods, so the earbud absence was a minor issue. One can easily use a paper clip or pushpin in place of the ejection tool. Both the box and the phone settings boast a 30-day limited warranty.The sticker on the box indicates the reconditioning was done be an Apple authorized shop. I can not say much about the cameras because I haven't used them yet. The battery life appears to be less than my that my SE that may be due to more heavier use rather than its battery or efficiency. To conclude, the iPhone 6S Plus is a great deal. Personally, had there been a choice, I would have opted for more storage, but I cannot see investing a lot of money on the phone with 5-year-old technology. This model is said to be adequate for iOS 13, but that might be the final major iteration of iOS this Phone can handle. I was weighing the purchase of an iphone 7, but they too were limited to 32 GB. Moreover, Tracfone doesn't offer the iPhone 7 Plus. The bigger screen is important to me because I use my phone a lot for reading and web surfing.
Date published: 2019-08-25
Rated

5

out of

5
by
Iphone 6s Plus
from
Exellent buy!
This is my first time buying a reconditioned phone, and I'm glad I did! The phone is like new, and I had no problem using it. It was not in the original Apple box, but it comes with the charger cord, and the adapter cube which I believe are OEM (?). The activation was a bit confusing. 1. You need to charge your phone when you get it out of the box. 2. Go to tracfone.com, then activate the phone by inputting the serial number that's on your activation card that comes with the phone. (IGNORE "insert the SIM card. It's already in the phone.) 3. Turn on your phone and see if you can make a phone call. If you can't, then turn off the phone and turn back again10 sec. later to see if you can make a phone call. Repeat until you can successfully make a call. 4. If this procedure wouldn't work with you, call 1-800-867-7183. Indian people would eventually help you with the activation after a long annoying automated operating system. Over all, I'm very happy with my purchase. (I didn't want to spend a bunch of money on the older model.) I highly recommend it!
Date published: 2020-03-27
Specifications
SIZE 6.23'' (158.2 mm)(H) x 3.07'' (77.9 mm)(W) x 0.29'' (7.3 mm)(D)
STANDBY TIME Up to 16 days
WEIGHT 6.77 ounces (192 grams)
BAND (FREQUENCY) CDMA EV-DO Rev. A (800, 1700/2100, 1900, 2100 MHz)
INCLUDED BATTERY Built-in rechargeable lithium-ion battery²
HEARING AID M3/T4
TALK TIME Up to 24 hours on 3G
What's in the Box?
iPhone 6s Plus with iOS 9
Lightning to USB Cable
USB Power Adapter
Documentation.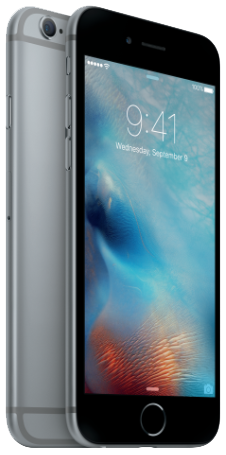 A service Plan card is required for activation. Plans are not returnable or refundable.
More features
A9 chip:
The A9 chip, complete with an embedded M9 motion coprocessor, optimizes performance no matter what features of the phone you're using.
12MP iSight Camera:
Take studio-quality photos and 4K videos you'll be proud to show off on social media. The camera even takes Live Photos, which help bring movement to your everyday snapshots. Switch to the 5MP FaceTime HD camera for stunning, high-resolution selfies.
LTE Advanced Network:
This phone performs twice as fast because it runs on an LTE Advanced Network. Download apps, search the Internet, access iCloud, and more, all in the blink of an eye.
5.5-inch Retina HD display:
The iPhone 6s Plus has a larger screen size to accommodate photos, videos, and games. Coupled with the 64-bit desktop-class architecture, this phone makes it feel like you're using a computer. The strong, fingerprint-resistant glass cover ensures durability for whatever you encounter.
iOS 9:
Enjoy more power in the palm of your hand with this advanced operating system. With this OS, Siri is smarter than ever, and there are more built-in apps to help make your phone ready to use right away.
We are sorry but this device is not available currently!
Please add your email and we will notify you when this device can be purchased: SUBMIT
*TETHERING TO ANOTHER DEVICE IS PROHIBITED. OTHER LIMITATIONS APPLY. Please refer to your terms and conditions.