SAVE $50! Plan purchase required.
LG Stylo™ 3 (L84VL) RECONDITIONED
LG Stylo™ 3 (L84VL) RECONDITIONED
is rated out of
5
by
16
.
Choose from below
SPEED 4G LTE/Wi-Fi®
USAGE TIME Talk time up to 20 Hrs
DISPLAY 5.7'' Touch Display
STORAGE Internal Memory up to 16 GB (device only)
CAMERA 13MP Camera, 5 MP Front Facing Camera
DIMENSIONS 6.13'' (H) x 3.15'' (W) x 0.29'' (D) inches
Creativity Gets Down To Business.
Let's get in touch with our inner artist. Let's get in touch with our inner engineer. Let's do both with one device. Whether you're a right-brainer or lean to the left, the LG Stylo™ 3 is built to capture everything you do and more. We've got being creative down to a science.

In the next step, you will have the option to bundle your Phone with one of our no-contract plans.
Service Plan Required for Activation. Plans are not returnable or refundable. Text LGL84VL to 611611 for mobile tutorials
---
Rated

5

out of

5
by
a tech savvy boomer
from
Great choice to upgrade to Android 7.0!
I upgraded from an LG Sunset about a month ago in order to get the improved security options of Android Nougat (7.0) over Lollipop (5.0) and to have more internal storage available, even with a microSD card for external storage. I have been very satisfied with the improved ability to control/prevent the access of apps to the contacts, photos, and other information stored on my phone and to configure both apps and the features of the phone more to my preferences. The screen size makes reading & using apps more convenient, but the phone is more unwieldy to carry in a standard pants pocket. Some connectivity options were a surprise. The phone arrived in mint condition, which makes this an especially excellent buy!
Date published: 2018-10-05
Rated

5

out of

5
by
MrJones
from
This is a super phone! Excellent value too!
I've been a Tracfone customer for almost 20 years. My first phone was HUGE! I bought this refurbished phone on-line from Tracfone several months ago and am very happy with it. Like previous refurbished Tracfones I've owned, it arrived in virtually new condition. I highly recommend this phone which I believe performs as well or better than many phones sold just a couple of years ago costing up to 10x more! Most of the pictures I've taken turn out very well. I decided to turn off the HD Voice feature because both sides of a conversation sound unnatural with it on and in my opinion, phone call sound quality is better with it off. The stylus feature is interesting but I rarely use it. The Version 7 operating system is great!
Date published: 2019-07-14
Rated

5

out of

5
by
Bilybob
from
Very nice phone!
This comes from a person that HATES phones, of any kind. Many reasons, but this Stylo 3 really has me smiling for a change! Of course, I'm moving up from an Alcatel one touch, which is about as good as 2 tin cans and some string. Stylo 3 has a very nice screen, and a great 13 meg/pix camera! Very thin, and light. I thought the box was empty!
Date published: 2018-08-19
Rated

5

out of

5
by
Bookewyrmm
from
Easily worth every penny
I have owned this phone for almost 6 months, I have been continually pleased with the performance of this device! The screen size is large and the display is crisp and clear. Android 7 is still responsive as the day it was new. Stylus input works as advertised and from a locked phone, the only app you can access is a notepad.
Date published: 2018-08-29
Rated

5

out of

5
by
Dannielle
from
An awesome phone at an unbeatable price.
I bought 2 of these phones a few weeks back, reconditioned from Tracfone's site and...WOW. Both have worked flawlessly, both came in exquisite like-new condition, accompanied with an OEM charger and all manuals. 16gb internal, running on Android 7 so expandable SD cards can run as your primary storage, up to 2TB if you so choose. Great phone, at an unbeatable price right now.
Date published: 2018-08-24
Rated

5

out of

5
by
EdF1966
from
A bargain at twice the price
I got this phone 3 months ago and I couldn't be happier.I love the music player on the home screen and the FM radio is a nice touch as well.HD calls sound like they are in the room with you.There's been some confusion over how many cores it has.The LG Premier which this phone replaced has a 1.2 GHz 4 core processor and the Stylo 3 runs at 1.4 GHz.The Stylo 3 is easily twice as fast as the Premier.Therefore,the Stylo 3 must have 8 cores because you're not going to get a jump in performance like that with just a 2 MHz bump on the CPU.
Date published: 2019-02-09
Rated

2

out of

5
by
RotoMoto
from
Beautiful phone, bad power button
I gave 2 stars because the power button is dysfunctional. I thought the battery was dead when I tried to power up and no response. Finally got it to come on and battery was 90%. Set it up and when I tried to power down, couldn't get the shutdown menu to come on screen no matter how long I pressed button. Repeatedly tried and finally got it to offer menu after variety of weird responses. Had to press super hard in a downward direction towards bottom of phone. That doesn't always work either. Once the phone is on it works well. It looks new. Very beautiful if you get a good one. The bad power button was such an obvious fault I'm surprised it got past quality control. I decided to use the plan card to extend service on my Samsung which is reconditioned and works like new. I didn't expect a new Stylo for this price but the button glitch I would rate as a major fault.
Date published: 2019-05-08
Rated

5

out of

5
by
Karl64
from
Great value. Does everything I need and more.
I needed a phone and when I saw this actually had a stylus, the price, and the other good reviews I bought it. The pros: The screen is bright and easy to see outside. The mic works well. The speaker works surprisingly well given it's location. The finger print scanner is seriously fast even compared to much more expensive phones. It charges quickly. I really like the basic stylus and the included support apps are decent. For me the notepad is one of the more used apps. The cons: The back cover is incredibly flimsy plastic not matching the quality of the rest of the phone. I was going to buy a case anyway, but you will need one. The camera on this is pretty basic. It's fine for what I need it for, but photos and video are important to you, you might want to look elsewhere. Overall, I'm amazed that a device this inexpensive is this good. You'd be hard pressed to convince me that a phone 10X as expensive would be 10X as useful.
Date published: 2019-09-09
Specifications
SIZE 6.13'' (H) x 3.15'' (W) x 0.29'' (D) inches
STANDBY TIME Standby time up to 13 days
WEIGHT 5.3oz.
BAND (FREQUENCY) Technology: CDMA, LTE
INCLUDED BATTERY Battery Capacity: Li-Ion 3,200 mAh
HEARING AID M4/T4
TALK TIME Talk time up to 20 Hrs
What's in the Box?
Includes Charger
Battery
Activation Card
Services Guide and Quick Start Guide.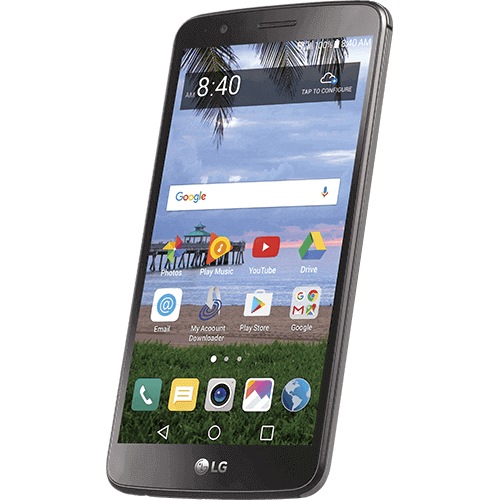 Service Plan Required for Activation. Plans are not returnable or refundable. Text LGL84VL to 611611 for mobile tutorials
WARNING: Cancer and Reproductive Harm - www.P65Warnings.ca.gov
TracFone Nationwide Prepaid Wireless:
No activation fees, contracts, monthly bills or credit checks.
Unlimited Carryover® of unused talk, text and data that never expires*
*service must be active and in use within each six month period
More features
OS:
Android™ Version 7.0 Nougat.
Display:
5.7" HD Display - View vibrant pictures, videos and on-screen entertainment in authentic color and eye-opening clarity
Memory:
Internal Memory up to 16 GB (device only), Supports microSD Memory Card up to 2TB (not included)
Processor:
Qualcomm® Snapdragon™ 435 MSM8940 1.4GHz Octa-Core Processor.
Network:
4G LTE Network - Wi-Fi® Connectivity 802.11 b/g/n
We are sorry but this device is not available currently!
Please add your email and we will notify you when this device can be purchased: SUBMIT
*TETHERING TO ANOTHER DEVICE IS PROHIBITED. OTHER LIMITATIONS APPLY. Please refer to your terms and conditions.