Save $30. Plan Purchase Required.
Samsung Galaxy J7 Crown (S767VL)
Samsung Galaxy J7 Crown (S767VL)
is rated out of
5
by
150
.
Choose from below
SPEED 4G LTE/Wi-Fi®
USAGE TIME Talk time up to 24 Hrs
DISPLAY 5.5'' HD TFT Display
STORAGE Internal Memory 16 GB (device only)
CAMERA 13MP main camera - 13MP front-facing camera
DIMENSIONS 6.03'' x 3.00'' x 0.34'' inches
Introducing the Samsung Galaxy J7 Crown (S767VL).
The Samsung Galaxy J7 Crown can enhance your life in so many unexpected ways. It has all the essentials, plus more – all for a great low price. If you're into watching videos or playing games, the large HD display is made for you. For photo fanatics, the 13MP cameras are sure to impress. Music fans love the Samsung Galaxy J7 Crown, too. It comes with 4G LTE/Wi-Fi connectivity for fast streaming and downloading. It's even enabled with Bluetooth, so you can connect your smartphone to headphones or speakers. To personalize your new Samsung Galaxy J7 Crown, start with some accessories, like a phone case or Bluetooth earbuds.
In the next step, you will have the option to bundle your Phone with one of our no-contract plans.
A Service Plan card is required for activation. Plans are not returnable or refundable. Text SAS767VL to 611611 for mobile tutorials.
---
Rated

3

out of

5
by
Seeker
from
Nice Phone
I bought this phone last week along with a flip phone. This is my first smartphone and while I do like it and am pleased, to some extent, I must say the battery life is almost laughable. I've had it for 3 days and every morning it needs to be put on the charger. I've done no calls and only sent 10 emails so that's not to good, unless its normal. If that is typical or normal then I might have to rethink using a smartphone. Anyway, I like the phone and the picture quality is very good but that battery drain leaves me a bit put off on future phone purchases, especial when it sat with no use for 6 hours and 15% of the battery disappeared.
Date published: 2019-09-14
Rated

3

out of

5
by
Don in Wayland
from
Phone does lose connectivity
Have had this phone for 4 months. My initial review was 5 stars. Couldn't have been happier; however a few weeks ago the phone would lose connectivity for calls and texts.Would do a restart and all would be fine for a while, then without warning, connectivity would be lost without any indication. Have tried several avenues to resolve, including Tracfone's customer service. Lost connectivity remains an issue. So... I ordered another Galaxy J7 hoping this one is okay. Problem is probably a Samsung issue and not Tracfone's. I hated to spend another hundred bucks for a replacement phone, but obviously no restitution from anywhere.
Date published: 2019-04-18
Rated

4

out of

5
by
RadioRick
from
Very good phone
I got this phone when I joined Tracfone from a different service, and have been generally happy with it. Occasionally I have trouble when "tapping" an app that nothing happens, but generally that's a matter of a good cleaning of the touch screen to get it going again. I've seen comments about poor battery life, but mine is on the charger at my bedside all night and it usually ends the day with over 80% battery life remaining. To be on the safe side, I've purchased a low priced phone from Tracfone which ... after several months ... is still in its original packaging just to be ready if and when I have major trouble with this.
Date published: 2019-12-10
Rated

1

out of

5
by
Riley
from
Stops working
After having this a couple of months, the phone will stop sending and receiving calls and texts. When it does this, there is no indication anything is wrong, because everything looks normal, including showing 3 to 5 bars of reception. You don't know it has quit until you try to send. Then it gives some error message and won't send. If you restart the phone, it usually wakes up again, only to quit again in a short while. Others have had this same problem. Do not expect this phone to be there when you need it, and don't assume it is working even though all looks well. When it is working it is mostly okay, however the touchscreen sometimes becomes unresponsive as well. Unacceptable.
Date published: 2019-03-04
Rated

1

out of

5
by
Russ1937
from
MAJOR PROBLEM
I bought this phone about a week ago and it is a nice phone. After several people told me my calls were not going to voicemail I tried it myself. It went to voice mail after about 15 (fifteen) rings. I couldn't find an option to change the number of rings so I called customer service. After about 2 hours on the phone they told me they couldn't change the number of rings from their end. I asked them how I could change it from my end and after many minutes they told me there was no option to change it. NOT A SATISFACTORY ANSWER! I guess I can send the phone back and order some other model or live with a phone that will never give me any voice mails as no one will wait 15 rings to leave a message.
Date published: 2019-06-24
Rated

1

out of

5
by
Kazimierz
from
Very disappointed.
Get this phone three days ago, and sent it back. To start using phone password was needed. I had used password I am always sing on startup, I also have it on the sticker on my monitor. Any way, password wasn't recognized by phone. Called service, service person (supervisor), very incompetent and barley speaking english told me that I set the password and this is my problem. Asked if someone else may help me, the answer was ....NO. In half an hour called one more time, I was lucky, the person speak very well and fully understand problem. To remove the password phone needs to be turned off but to turn it off password is needed, funny. Because I wasn't able to reset it to factory default, sent it back.
Date published: 2019-05-07
Rated

5

out of

5
by
J7user2019
from
Fantastic Mobile Device, Fast, Affordable, Stylish
So glad I purchased device about a month ago. The response time is amazingly fast while using for various tasks. I like various settings & features that helps me to get the maximum use of this device without overtaxing It's use. The video/cam takes really nice detailed pictures too. The (small) playback speaker located on the side sounded quite good. which was different from my previous - owned mobile device. Since this is a Samsung device, It pairs quite with my Samsung Smart TV. Finally a decent, affordable, working, device that I'm proud to own. This is it.
Date published: 2019-02-16
Rated

5

out of

5
by
Bills90
from
Great phone and Camera
I purchased the Samsung J7 Crown to replace my older samsung On5. The J7 is so much better and faster. The features, screen quality and outstanding camera are far superior to the On5. The set up was easy. The phone walks you thru the startup process smoothly. I wanted to transfer my On5 phone number and it only took minutes to complete and I had service in less than 15 minutes. I downloaded the samsung transfer app and in minutes all my files, texts, pictures and phone numbers were transferred to my new phone. The J7 is a great phone for the price.
Date published: 2018-11-30
Specifications
SIZE 6.03'' x 3.00'' x 0.34'' inches
STANDBY TIME Standby time up to 27 days
WEIGHT 6.38 oz
BAND (FREQUENCY) Technology: 4G LTE
INCLUDED BATTERY Battery Li-Ion 3,300 mAh
HEARING AID M3/T3
TALK TIME Talk time up to 24 Hrs
What's in the Box?
Includes Charger
Battery
Activation Card
Services Guide and Quick Start Guide.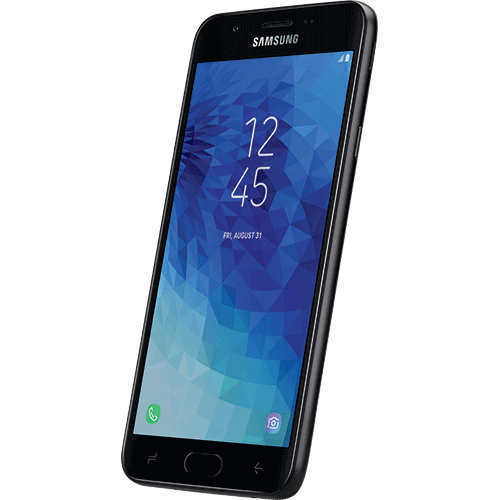 A Service Plan card is required for activation. Plans are not returnable or refundable. Text SAS767VL to 611611 for mobile tutorials.
WARNING: Reproductive Harm - www.P65Warnings.ca.gov
Tracfone Nationwide Prepaid Wireless:
No activation fees, contracts, monthly bills or credit checks.
Unlimited Carryover® of unused talk, text and data will not expire***
More features
Android™ 8.0 Oreo™ OS:
Samsung uses the Android™ 8.0 Oreo™ operating system to make phones smarter, safer, and faster.
16GB ROM storage:
16GB is a lot of storage for photos, videos, apps, and games. But you can actually increase the storage capacity up to 400GB if needed with the use of a microSD card (not included).
13MP cameras:
The selfie camera is just as powerful as the rear camera. After you snap each photo, enhance them with fun stickers and filters before sharing them with friends and family. Both cameras work well in low-light settings, too, for great shots day or night.
1.56GHz octa-core processor:
Games and videos tend to drain the battery life on cell phones. But this octa-core processor helps prevent that, so you can use your phone for longer.
5.5-inch HD display:
The Samsung Galaxy J7 Crown offers endless entertainment. Whatever you're watching or playing, the large HD display makes the moment even better.
We are sorry but this device is not available currently!
Please add your email and we will notify you when this device can be purchased: SUBMIT
*TETHERING TO ANOTHER DEVICE IS PROHIBITED. OTHER LIMITATIONS APPLY. Please refer to your terms and conditions.